Times are tough and you may be reading this headline and thinking, "Working for free is the last thing I need to be doing."
Think again. Donating design services to a nonprofit organization is a great way to stay afloat in a slow economy. There are some great benefits in donating design services and creating campaigns and collateral for nonprofits:
exposure for your business
other clients will view you as kind and benevolent
learn what tactics "work" in the nonprofit sector
may lead to paid work for non-profits later
keeps you busy and creative during slow times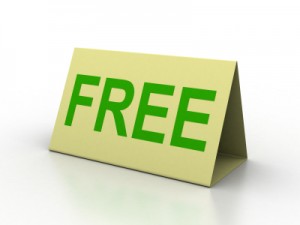 Here are some tips for securing pro-bono design work, and how to make a partnership with a nonprofit organization mutually beneficial:
1. Approach organizations with a plan
If you are going to approach an organization with an offer to do pro-bono design create a PDF with your logo, their logo and two to three paragraphs explaining in detail why you'd like to contribute services to their organization in particular, the services you can offer and the approximate number of total hours you can offer for this project, and throughout the year.
2. Treat them like a paying client
If you secure a pro-bono gig, treat the organization as you would a paying client. Don't assume the client will be so happy to receive free design work that they'll settle for the first idea you put in front of them. Be sure you are working with the client to meet their expectations and make them happy with the final result. Plan ahead and pad your work schedule so that you can get the nonprofit work done on time, even if other paid projects come down the pipeline at the same time.
3. Draw up a specific contract
Write up the same kind of contract you would for a paid job. It even helps to note your hourly rate or project rate on the contract, so the organization can see the true value of your services. Include a specific list of design deliverables and how revisions and approvals will work as well.
4. Talk about related services
Let's say you are designing a pro-bono web landing page and a postcard for a nonprofit campaign. Where's the photography or illustration going to come from? Who's going to pay for the postcard printing and postage? What about copywriting and copy editing? These are all details to discuss at the outset of the project. Sometimes the organization will provide employees or vendors to cover these services, and sometimes the designer can bring in their preferred vendors or associates.
5. Trust their expertise
If you've not done a lot of nonprofit design, then take direction from the organization on what works and what gets donors engaged. The nonprofit and for-profit worlds are very different, and this is a good opportunity to learn from the experts, about what works in the nonprofit world - a valuable skill for landing future nonprofit clients.
6. Get credit and exposure
To gain exposure for the organization and for you, enter nonprofit design work into competitions. It's also wise to negotiate how the organization will recognize your contribution. For example, they might add your credit-line to print pieces and link to you on their website. You'll also want to secure permission include the pro-bono work in your portfolio. If your project is a great success, you can also solicit a testimonial or case study from personnel at the organization to feature as a selling point on your website.