Catalog feature pages, or product spotlight pages, can drive the majority of sales from any given mail-order print catalog.  Highlighting specific products or groups of products on a full page or two-page spread commands attention and motivates sales.  The following breaks down a product feature page for a Crate & Barrel catalog, which incorporates several strategies for boosting catalog printing profits.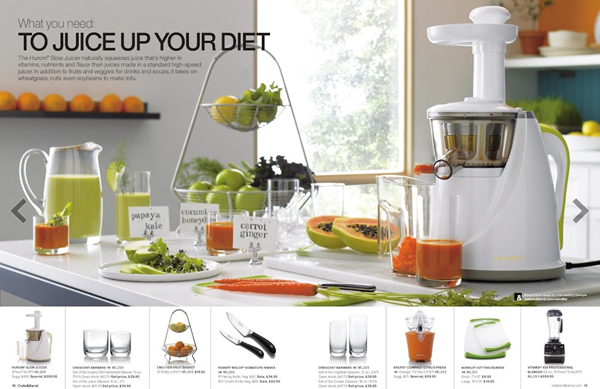 Products in Use
One of the best strategies for designing a great catalog feature page is to show the products in use.  This company sells products that are both functional and stylish.  Accordingly, this catalog spread portrays the products as they would look in use.  The clean, modern look of the table setting and background contribute to a brand image that creates desire.  When customers see this product feature page, they don't just want a juicer; they want a lifestyle and self-image afforded by this specific juicer.
Related Products
The focus of this feature page is the juicer, but the design incorporates its accessories as well.  Including related products increases sales because customers want to get the most out of their purchases.  Buying the juicer alone won't completely fulfill customer desire, so this layout shows the products used together.  At the bottom, each product is individually listed with its own benefits and price.
Can't-Miss Copy
Your copy can be just as important as your catalog design, but there's no need to overdo it.  This copy helps create desire by mentioning benefits of the juicer ("To Juice Up Your Diet," which implies health and flavor), benefits of the juicer with related products (the paragraph under the headline plus the individual product descriptions), and acting as a helpful "how-to" ("What you need:").   The copy is incorporated into the design in a clean, attention-getting manner that emphasizes key selling points.
This catalog spread took what could have been an individual juicer mixed in with a sea of other products and turned the juicer and related products into a full package that has the ability to double or even triple sales revenues from eight different products.  The strategies employed are universal, so incorporate them into your catalog design to earn more sales from your next catalog marketing campaign.
About the Author:
| | |
| --- | --- |
| | Brian Morris serves in various capacities as a freelance writer, content developer and public relations specialist for growing small businesses. His previous roles included managing editor for a hometown newspaper and club bartender for a group of quasi-alcoholics. When he's not writing, he's usually counting lost follicles and wondering what he ever did with his time before his two children were born. |