The 50 states may be united, but there is one area in which they continue to wage war: Which state is the best to visit and spend your tourism dollars? One of today's major fronts is the world wide web, where each of our 50 states plus the District of Columbia make their cases for why you should pack up the kids or your significant other and head to their plains, mountains, shores, valleys, hotels, restaurants and attractions this year.
As we enter the summer tourism season, I thought it would be fun to compare each of the state tourism departments' home pages to see which were the most convincing by design. Thus, I give you the best five state tourism home page designs.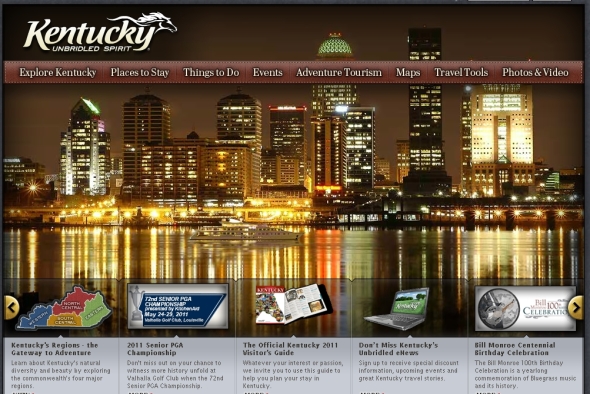 This wins the design category hands-down in my opinion. The entire home page captures the spirit of the state – or at least the spirit of the state's brand as the tourism department wants you to feel it. The enormous image slideshow immediately immerses you in different aspects of Kentuckian lifestyle, and you can quickly navigate to your chosen area using icons below it. The crowning touch? The mane on the Kentucky horse logo waves in the breeze.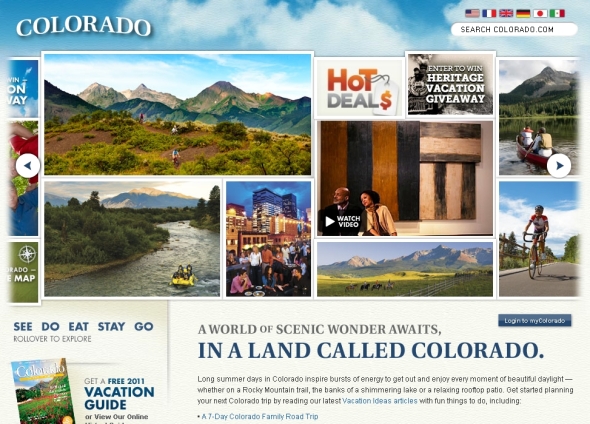 Colorado's tourism website immediately engages you in not just one or two showcased images; they have dozens sliding across the screen. Each speaks to a different kind of niche customer, or traveler, and each is linked to a corresponding page targeting that person. Families, couples, adventure-seekers, kids, seniors, outdoor enthusiasts and history buffs can all quickly find something to explore from Colorado's home page.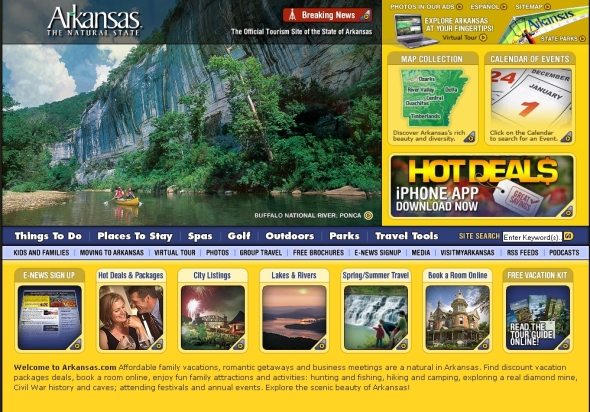 Arkansas' website might not be as flashy as some, and I had a difficult time including it over some of the fantastic artwork boasted by other state tourism websites. Arkansas does something many others do not, however: eliminate drop-down menus. One of the key components of website design is the ability to quickly find what one is looking for, and in an attempt to reduce the number of clicks necessary to that end many tourism sites – which cover entire states, mind you – have hundreds of links buried in drop-down menus. Not Arkansas. This design has great navigation spread throughout two different menus – plus two upfront photo link sections – that help you find where you're going.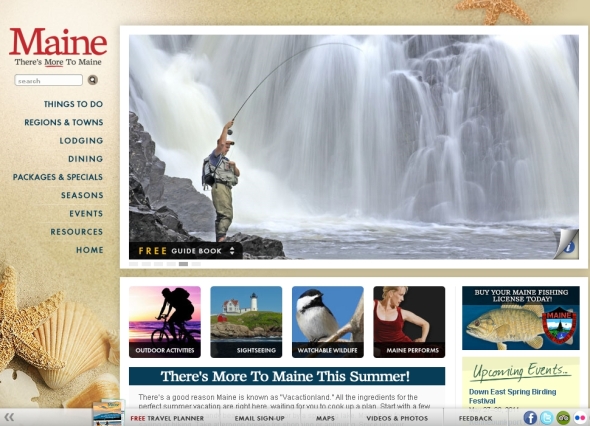 No drop downs, and sleek simplicity when it comes to navigation and the home page in general. I can't tell you how many state tourism websites I waded through that were wrought with information overload. Again, these states are trying to reach everybody with everything from one page; but in doing so they've hidden their own treasures. Not Maine!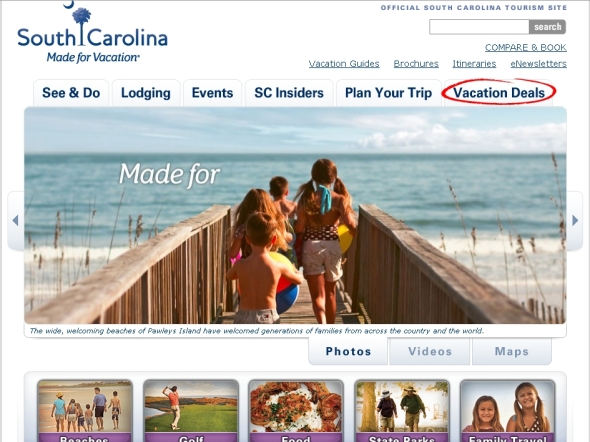 South Carolina almost topped my list in a tie with Kentucky. The site isn't showy, but it definitely showcases what the state has in its rotating banner. Also, like Maine's home page, it has very simple, easy-to-find buttons with exceedingly easy navigation (though it does incorporate drop-down menus). But these are not the reasons I've picked South Carolina's tourism home page over 45 others. The main reason? The bright red circle around the "Vacation Deals" button. It's obvious where they want you to go, and you can't possibly miss it. That's powerful marketing, executed with precision.