Spring is finally here, and after many in the U.S. faced a long, harsh winter consumers are anxious to break cabin fever and begin enjoying the great outdoors. As a small business or marketer, warmer weather represents an opportunity to reach customers in a powerful way: with door hanger marketing. The following lists five reasons door hangers are perfect for promoting spring and summer sales.
1.  Customers are ready to buy
The spring thaw and subsequent summer play, coupled with the good moods great weather brings and extra funds in the form of tax returns means customers are ready to get out and shop. This isn't just true for seasonal sales; no matter what industry you're in, you're likely to find happy buyers when the weather warms. Door hangers are perfect for promoting your special spring and summer sales, especially when you add a perforated coupon or coupon code so you can track your response rate.
2.  Door hangers are impossible to ignore
You're not the only one who knows spring and summer can be hot sales seasons, but you can use door hangers to reach customers where competitors are not. Unlike other marketing channels such as PPC ads, door hangers are practically impossible to ignore. They don't get lumped with your competitors' "junk mail." Instead, they're place right on door knobs – customers literally have to pick them up. Moreover, many utility companies and delivery services employ door hangers to deliver important messages, which means your door hangers are far more likely to be read. All you have to do is draw customers in with a compelling offer, and your door hangers are sure to be winners.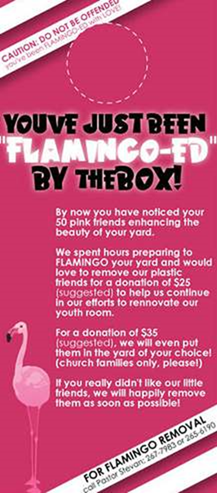 Photo credit: Stevan Sheets via Flickr Creative Commons license
3.  You can brand your company through door hanger distribution
Send your team of employees or volunteers out with branded shirts, banners or other attention-getting devices that help promote your brand. Turn door hanger distribution into a parade celebrating your company so that anyone who sees you is reminded about your brand. Since many potential customers are out and about on warm days, you can vastly increase your brand exposure by distributing door hangers in this manner.

Photo credit: Anthony Crider via Flickr Creative Commons license
4.  Door hanger distribution can be dual-purpose
If you have posters, flyers, club card flyers, stickers or other marketing materials to distribute, you can post them at the same time you're distributing door hangers. Not only do you get more efficient distribution, you get to launch a multi-channel marketing campaign that leads to repetition for customers, thus increasing your response rate.
5.  Door hangers are cheap to print and distribute
Door hangers are cheap to print – you can print 1,000 door hangers for around $100 – and they can be even cheaper to distribute when you recruit volunteers to help. It's not hard to get volunteers, either, when you promise to reward their efforts with a pizza party or cocktails afterward. Door hanger printing and distribution done cheap reduces campaign overhead and maximizes your return on investment.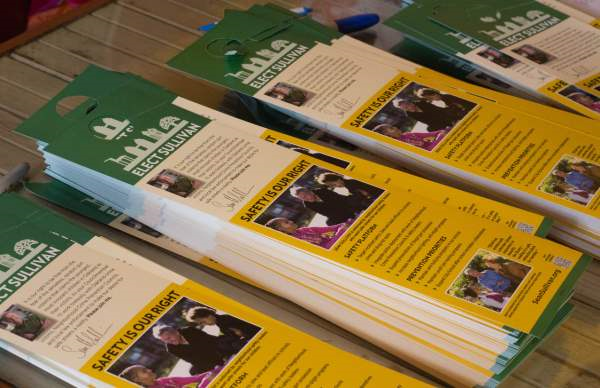 Photo credit: The Inadvertent Gardener via Flickr Creative Commons license
As with any marketing campaign, be sure to incorporate a compelling, time-limited offer on your door hangers; add in powerful motivational copywriting that creates desire and attention-getting design, and you'll be able to print and distribute door hangers that are perfect for promoting your spring and summer sales.