[caption id="" align="aligncenter" width="441"]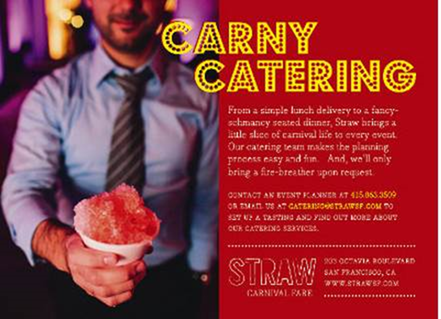 Postcard design by PsPrint customer Wednesday Seven's Maura Feingold for Straw
[/caption]
Do you want to achieve greater results from your direct-mail marketing campaigns this year? Try the following ways to increase postcard response rates in 2014.
1.  Evaluate your mailing list
Excellent customer targeting is vital to optimizing postcard response rate. Take some time to review your mailing list demographics, and compare them against the demographics shared by your top customers. I recommend creating a mailing list comprised of people who match the demographics shared by your best three customers – or, the customer types you want more of. A highly targeted mailing list will allow your postcards to reach only those people who are very likely to become customers.
2.  Evaluate your offer
Do your postcards promote the right offer to the right audience? Consider your offer to determine whether it's exactly what your customers want. Your offer should also include a sense of urgency, which is why limiting response to a specific date has long been a postcard marketing strategy. Match your specific offer to your targeted mailing list to earn the best possible return on investment.
3.  Attention-commanding design and copy
Do your postcards stand out from everything else in the mailbox? If not, it's time to revamp your design and copy. Common techniques include big, bold headlines that reveal major customer benefits; extra-large postcard printing; and funny, unique, or emotionally powerful images or illustrations. Remember that in order for your offer to be read, your design and copy must be compelling.
4.  Keep it simple
Avoid the temptation to pack your postcards with information. Instead, focus on a key major benefit your customers will enjoy upon purchasing your products and services. It's OK to add other supporting evidence, such as other benefits, but honing in on the benefit your target customer base will most likely respond to is the best practice. Don't clutter your postcard with unnecessary details customers can find out via follow-ups. And speaking of follow-ups, make it perfectly clear what customers have to do next to take advantage of your special offer.
5.  Test, measure and repeat
Test different variations of your postcards against smaller customer segments to identify which perform best. Simple headline, design and layout changes can influence huge differences in postcard response rates. Once you have identified the best version, send those postcards to your mass mailing list. Then, repeat: in fact, repetition via multiple postcard mailings is one of the best ways to increase response rates, as your consistent marketing will help brand your company, secure customer trust, and motivate follow-ups.