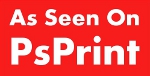 It's beginning to look a lot like Halloween! Fall is here, and with that comes Pawtrero's annual dog-rescue benefit in San Francisco. We printed the paw-some promotional poster for the "Dog Day Afternoon" block party, which will include an Al Pacino pet costume contest and beer garden!
Speaking of animals, the Animal Welfare League of Alexandria is getting the jump on holiday marketing by printing its calendars NOW, rather than waiting until winter when many other competitors will start handing them out (by freeman). Because who doesn't love a dog calendar?
In more annual event news, one of our favorite customers yet again chose PsPrint for its Petaluma International Film Festival marketing materials. I love the typography for this year's brochures and posters – check it out below!
How are you doing with planning your fall and winter promotional campaigns? Did you print anything Halloween themed? Have you already designed your Christmas or Hanukkah cards? I'd love to hear about any seasonal print orders of yours – please let me know in the Comments below! If you require design inspiration, just have a look at last week's "Hot Off the Press."