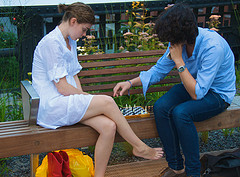 One of the hottest trends to hit the wedding market is sending save-the-date invitations, which presents a great opportunity for graphic designers to make more money through wedding design packages. For the uninitiated, save-the-date invitations are like postcards or greeting cards sent in advance of formal wedding invitations that announce the date of a wedding to family and friends.
It's kind of like saying "Hey! We're getting married on this date, so don't make plans ... and definitely don't plan your own wedding for the same day." Save-the-date invitations allow couples to secure a wedding date well in advance.
As a graphic designer, you undoubtedly recognize the potential for additional profits with save-the-date invitations. Obviously more design work costs more money, but remember that you might have to tell your clients about save-the-date invitations and the benefits they offer to convince them to buy. Benefits of save-the-date invitations include:
They essentially reserve the date well in advance ... even years in advance.
They ensure there are no conflicts with important family members.
They prevent friends from getting married the same day.
They allow couples to start planning their wedding sooner, making the entire process less stressful.
I suggest you get creative when marketing save-the-date invitations. Contact local media and/or send press releases to try to get an interview, take out ads in wedding publications, send postcards to recently engaged couples and create a wedding planning booklet to send to potential clients.
You might even one-up your competition by offering save-the-date invitation designs for free in return for securing the design work for the rest of the wedding package. For a talented designer like you, they're really not that difficult to design in comparison to formal wedding invitations.
With the right pitch and the right price, you can boost profits with save-the-date invitations. Thus, they're just as beneficial to your business as they are to your clients.
Image use Creative Commons license via Flickr.