Some event tickets are worth framing because the events in question had historical value (such as a presidential inauguration). Some are worth framing because they have special personal value (such as tickets to a baseball game where the big question was popped). Others are worth framing simply because they are extraordinarily designed. For this blog post, we'll focus on the former type of event ticket and point out reasons why each example is indeed frame-worthy (though the events, in large park speak for themselves).
1. Woodstock '69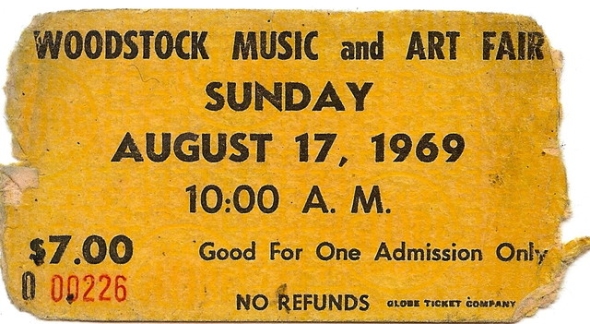 I know that this was before the days of Photoshop and Illustrator – or even personal computers, for that matter – but I'm still a bit surprised that tickets to an event featuring, among others, tie-dye lover Janis Joplin would be so plain Jane. Still, the event was a pivotal point in rock 'n' roll history and a framed ticket would be seriously cool. On a side note, the 1994 Woodstock concert ticket features artwork from the original '69 Woodstock poster. 2. Super Bowl XLII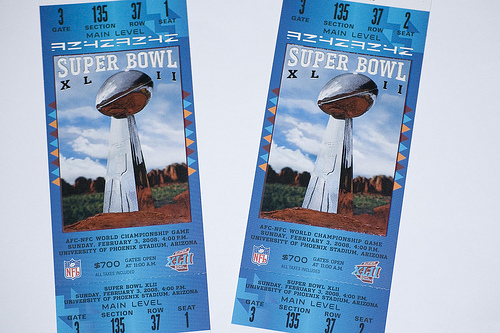 Super Bowl XLII (that's 42) was one of the craziest nail-biters in professional sports history, and football fans can only thank the powers that be that we were around to see the underdog (wildcard team) New York Giants defeat the previously unstoppable (undefeated) New England Patriots – thanks in large part to a wild circus catch on a desperation throw. Sometimes history isn't so appreciated when it happens as it is generations later, so hold on to your Super Bowl XLII tickets as the game will no doubt live on in NFL infamy for decades to come. 3. Last game at Yankee Stadium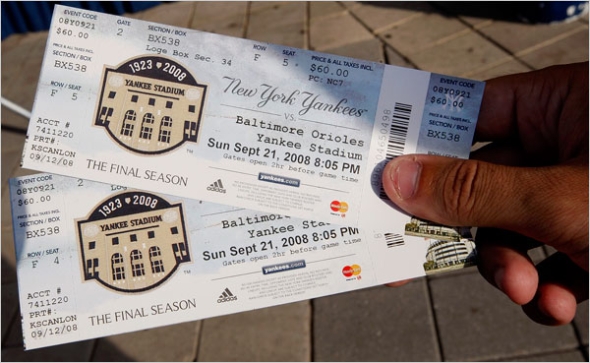 Fabled Yankee Stadium (the original), the House that Ruth Built, was the home of the New York Yankees from 1923 until 2008. On Sept. 21, 2008, the stadium closed its doors to give way to a new stadium with all the luxury but none of the character. A ticket from that fateful day is worth framing, sure; and a ticket from the 1923 season is certainly worth even more. 4. Ringling Brothers 50th anniversary celebration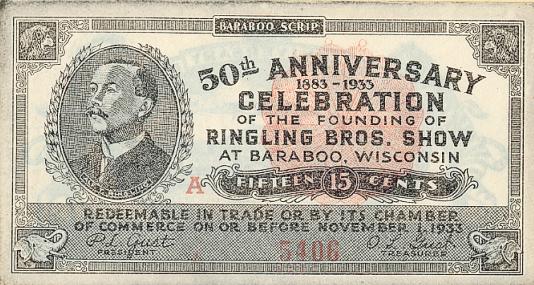 Sounds like something that would have happened just a few years ago, right? Actually, the Ringling Brothers Circus celebrated 50 years in business in 1933, rolling out the intricate design of this 77-year-old ticket in commemoration. The circus might not be at the top of your list of incredible events, but keep in mind that few businesses have survived nearly 130 years or been able to buy out all their major competitors (such as Barnum & Bailey, owned by the Brothers). If I could find an image of the original 1883 tickets, I would have posted those instead! 5. Michael Jackson funeral ticket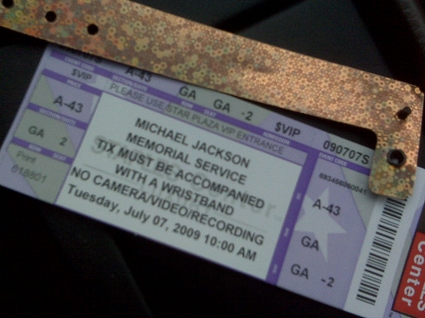 This is another recent event whose tickets only stand to increase in value throughout time. Whose funeral commands ticket sales anyway? The King of Pop, that's who. I don't know if it's a testament to Jackson's legacy or to today's commercialism that more than 17,500 tickets were distributed. OK, in fairness, they were given away for free – but what do you think it would cost to purchase one secondhand? Well, the entire memorial package including tickets was going for more than $3,000 on Ebay at the time of this writing.