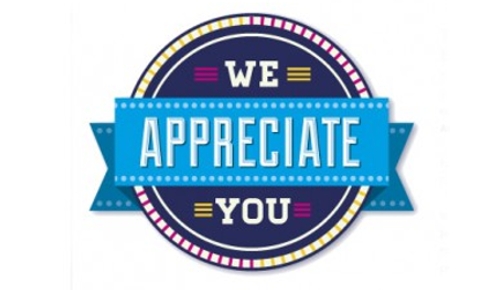 The key to long-term business success lies in establishing relationships with your customers. Not only should you work to get to know your customers so you can match them with the perfect product or service for each individual situation, you should also work after the sale to demonstrate how much you appreciate their business. Going the extra mile after the sale goes a long way toward establishing the relationships you need for long-term success.
We here at PsPrint are celebrating Customer Appreciation Month with daily giveaways and contests, but there are many different ways to show customer appreciation, and it's a good idea to develop a customer appreciation policy or program that is unique to your company and your customers. Doing so will help you stand out from your competitors and reinforce the difference of your brand. How you show customer appreciation is up to you, but it should also fit your brand, company and – most importantly – your customers. For your inspiration, here are 30 customer appreciation ideas.
1.  Send greeting cards
Send greeting cards to your customers to thank them for their purchases. You can also send greeting cards on holidays. For an extra-personal touch, send greetings cards on customer birthday, anniversaries, and other meaningful dates.
2.  Grant access to special VIP-only sales
Send postcards to your best customers that promote special VIP-only sales. Even those who do not buy will appreciate that you extended the offer to them.
3.  Handwritten note
Instead of sending form letters to your customers, handwrite notes on your custom letterhead. The fact that you took the time to give personal attention to your customers will be meaningfully-noted.
4.  Phone calls
Most thank-you phone calls only take a few minutes, but they can lead to extreme customer loyalty. Moreover, phone calls give you an opportunity to ask your customers for feedback and find opportunities to make your products and services even better.
5.  Rewards card
You can print customer rewards cards that give your best customers discounts or freebies after a certain number of purchases. Many restaurants and retailers use rewards cards to demonstrate customer appreciation, but the idea can be adapted to nearly any business.
6.  Newsletter spotlights
If you mail newsletters, devote a section of each newsletter to showcasing one of your best customers. Incorporate customer photos, include a write-up on how you helped them, and of course express your gratitude that they chose your company.
7.  Launch a members-only catalog
If you're a retailer, you can ask customers to sign up for your VIP membership. In return, you can offer them a special members-only catalog that includes better deals or a more advanced product selection. Exclusivity fosters customer loyalty.
8.  Free add-ons
If you can give your customers special add-on services for free, they'll understand why they should choose your company. Car dealers often give away car washes to anyone who purchases a new car, for example. My tire shop offers free flat tire repairs for the life of any new tire purchased. Little gestures add up.
9.  Thank-you photo board
Prominently place a photo board on a wall at your location to thank customers. Take pictures of customers and place them on the board for all to see.
10.  Distribute press releases
If you're a B2B business, you can distribute press releases announcing your partnerships with new customers (with their permission, of course). Your press releases should promote both companies and express your gratitude for your customers.
11. Give business referrals
This is perhaps the best way to demonstrate appreciation for B2B customers: send business their way. Word-of-mouth referrals are the best type of marketing, and your customers will appreciate that you send them hot leads who are ready to buy.
12.  Customer advice panels
Create a customer advisory panel and ask key customers to serve on it. Don't ask for much time; instead, give them easy ways to offer feedback.  This lends a sense of ownership, which in turn fosters loyalty. More importantly, it shows customers that you care about what they think.
13.  Call with new opportunities
If you find a new product, service, or opportunity your customers might be interested in, pick up the phone and give them a head's up. This is better than a scripted "thank you," because it demonstrates that you're looking out for your customers' best interests at all times.
14.  Fix problems fast
This should go without saying, but sometimes the best way to appreciate your customers is to fix their problems fast -  in a single phone call whenever possible.
15.  Host customer appreciation events
Water park days, cookouts, concerts, picnics and other events are excellent for hosting customers. Give away free burgers and hot dogs, add in some good music and some fun for the kids, and your customers will look forward to your event every year.
16.  Send event tickets
Get to know your customers' favorite sports teams and bands. Occasionally, purchase a pair of sports or concert tickets for your best customers. They'll love the fact that you remembered their passions with your free gift.
17.  Pay for dinner
Another great way to demonstrate customer appreciation is to give away dinner reservations. If a hot new restaurant opens, make reservations for your VIP members and treat them to dinner.
18.  Hand out promotional items
Customers love freebies, especially ones they can use: shirts, pens, stickers, notepads and more.
19.  Facebook giveaways
Give away something new and cool on your Facebook page, and publicly thank customers as well.
20.  Social media photos
Post photos of your customers (with their permission) on your social media profiles, and – again – publicly thank them.
21. Social media votes
Similar to customer advisory panels, but informal and community-wide: ask customers to vote on your next product or service, color, giveaways and more. Customers who participate will have an interest in helping you succeed.
22.  Give away calendars
Print calendars with themes that are relevant to both your customers and your business, then give them away for free. Add value to your customers with exclusive coupon codes every month.
23.  Send a unique gift
Similar to the event tickets idea, if you truly get to know your customers you'll find out things like which baseball player was their childhood idol or what types of wines they enjoy. Use this information to take advantage of opportunities to give your best customers unique, personalized gifts such as sports memorabilia or wine.
24.  Thank customers on your signage
Publicly thank your customers on your store signage; if it's not editable, print cheap vinyl banners to thank your best customers.
25.  Launch a customer of the month program
Each month, pick a customer to receive a special offer, freebie or gift. Have a good reason for picking each customer, then promote your pick through social media, email, print newsletters and even press releases.
26.  Send a limo
Are you supposed to pick a customer up or otherwise provide transportation? Send a limo to their house. Make a statement and treat your customers like royalty.
27.  Give an adventure trip
This idea is for high-budget firms; give away an adventure trip such as skydiving, white water rafting or NASCAR school. Again, you want to match the adventure to the customer's passion.
28.  Host a sampling event
Host a special sampling event for your VIP customers and let them try new products and services, recipes, and more. Giving customers an inside look at your process and a "first try" invitation gets them involved with your company and talking about you to their networks.
29.  Give travel accommodations
Do you have opportunities to give away hotels, rental cars, frequent flyer miles or even amusement park tickets? Give them away to your best customers and help them enjoy awesome vacations, on you.
30.  Free drawings
Each month, enter all of your customers into a free raffle with a special prize for the winner. It's a great way to engage and reward all customers while minimizing your investment. What are your favorite customer appreciation ideas?