Folded business card by Muhammad Gohar Shafique
Folded business cards double your marketing real estate, but what should you do with the extra space? Put it to work for you, of course, with the following five great ways to use folded business cards.
1. Online lead generation
Having two extra panels on your business cards makes it easy to include a special promotion that generates leads or even direct sales. Come up with an incentive to drive targeted customers to your website to sign up for your email newsletter or  a social media page to like or follow. A real estate agent, for example, might print a useful home buying and contract negotiation booklet; then use the inside panels of their folded business cards to create desire for guide and motivate customers to go online to get it free after submitting their email addresses.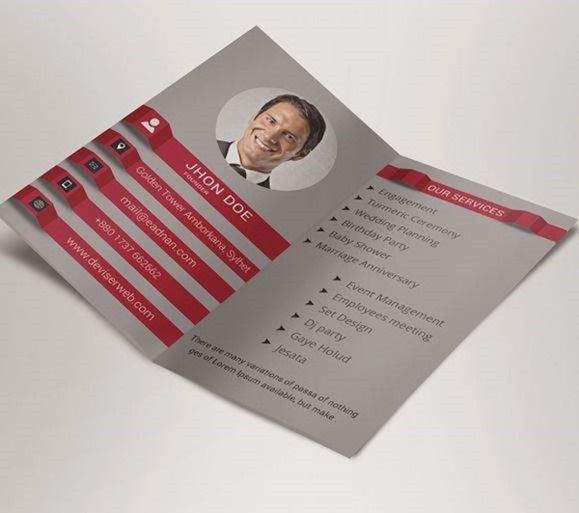 Folded business card by Ahsan Raz
2. Appointment reminder cards
You've seen appointment reminder business cards at the doctor's office, but doctors aren't the only type of professionals who can use this type of folded business card to their advantage. Salespeople, for example, could print folded business cards in which the inside panels feature date and times that can be circled to set appointments. When they schedule follow-up meetings, they can circle the dates and times, fold their business cards so the appointment reminder can be placed on a desktop (like a table tent), and give them to prospects. The tangible reminder makes it more likely prospects will keep their appointments.
3. Mini-catalogs
Turn the inside panels of your folded business cards into mini-catalogs to motivate potential customers to follow up. Feature best, top-selling, flagship-type products; or, print a panel of add-ons that complement a product you're already well-known for. Showcase two or three products per panel and encourage customers to go online to learn more or buy. Consider adding a coupon code to sweeten the deal.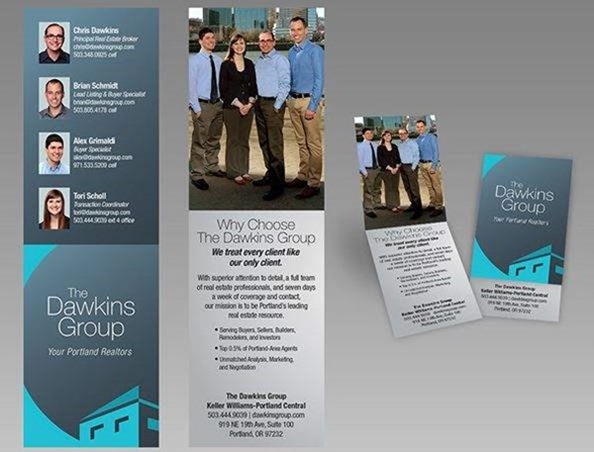 Folded business card by Leslie Bourke
4. Coupons
Folded business cards are perfect for handing out coupons. Turn the back panels into a coupon and have your printer perforate the seam so the back is easy to tear off. In this manner customers can cash in on your coupon and still keep your business card for future reference.
5. Branding
The inside and back panels of your folded business cards can help you brand your company; use them to tell the story of your company in a way that resonates with customers, share your business and product/service philosophy, give a quick tour of your facility, or otherwise show customers why your brand was created specifically to serve them. When customers identify with your brand, they're loyal buyers. Don't miss a great opportunity to make your business cards more powerful – print folded business cards today!