Want to print custom New Year's Eve invitations that captivate your audience and increase attendance for your event? Whether you're hosting a small party at your home or big New Year's bash at your club, you can make a splash with the following 10 cheerful New Year's invitation theme ideas.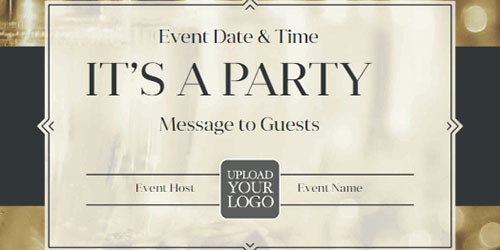 Make your own New Year's Eve invitations with PsPrint's free party invitation templates and online design tool
1. The bubbly
A tried-and-true New Year's Eve invitation theme, champagne glasses, bottles, and the effervescent libation itself can form the foundation of your party invites. Consider clinking glasses, text shaped like a bottle, or a background filled with the intoxicating drink.
2. Out with the old, in with the new
A common play on this theme has an old man representing the past year and a young baby the new, but you can make your own humorous twist by comparing "old" and "new" versions of just about anything: cars, bars, family members, and more.
3. Make some noise
Your custom New Year's Eve invitation designs can feature cheerful noise: partygoers dancing to the beat, party horns merrily honking, or perhaps an image of kids banging pots and pans.
4. Ball drop
Get creative with the annual NYE ball drop theme – replace the traditional ball with a disco ball, cocktail fruit (perhaps a lime), or a football (if you're hosting a college playoff party).
5. Fireworks or confetti
Adorn your New Year's Eve invitations with a festive explosion of fireworks or confetti. You can combine this idea with other themes; for example, fireworks launching out of a champagne bottle.
6. New Year's resolutions
Make a list of funny or thoughtful New Year's resolutions your guests should follow, with the most important being to attend your New Year's Eve party!
7. Masquerade ball
If you're hosting a New Year's Eve masquerade ball, dress your invitations up with a mysterious mask illustration or an image of partygoers wearing masks at a previous ball.
8. Bright neon
Hosting a New Year's Eve black light party? Set the tone with a dark background, neon typography, and neon icons or image accents. Or, think of how normal items look under black lights, then come up with a creative theme of your own.
9. Chalkboard
Create a "chalkboard" illustration featuring typography with different size fonts and chalked illustrations: champagne glasses, fireworks, and other New Year's Eve icons.
10. Countdown
Finally, you can print custom New Year's Eve invitations featuring a countdown theme – count down to your party! Make your invitations even more memorable by including a special save-the-date refrigerator magnet.
Ready to craft your own creative theme? Print custom New Year's Eve invitations at discount prices today.