Every business should print letterhead for communicating with customers, but not every letterhead design is good for business. Before you invest in letterhead printing, you should consider what purpose your letterhead serves. Branding, yes, but it's more than that: credibility. Your letterhead should lend the impression that your business and the message you're communicating are credible, which in turn will foster trust, generate more leads, and land more sales. To those ends, the following lists 10 letterhead design tips that lend credibility to your business.
1. Create a bold header
A bold header helps your branding stand out and can elicit an emotional response. Instead of letting your logo do the heavy work, place it against a backdrop of an exciting and relevant photo, a swatch of rich color, or a unique illustration that differentiates your letterhead from the competition.
2. Incorporate brand colors throughout your design
Headers, footers, sidebars, headlines, and other elements should feature your brand colors. Color can increase brand recognition by up to 80 percent, and the more brand recognition you have, the more credible you appear.
3. Add your tagline
If you have a great tagline for your business, don't forget to include it in your letterhead design. Like images, taglines can generate emotional response. If you don't have a tagline, or if you're a nonprofit or charity organization, you might instead include your mission statement. The idea is to make it clear what you stand for, since 64 percent of consumers say brand loyalty is driven by shared values.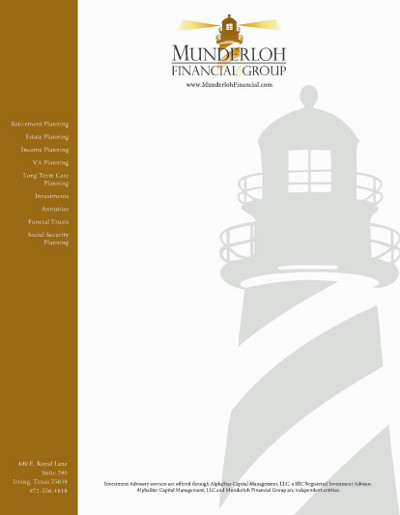 Letterhead design by Fig Marketing Group's Alisa Ferrara for Munderloh Financial Group
4. White space is your friend
And clutter is the enemy. Add plenty of space between your design and text elements to make your letterhead easy to read. Your design doesn't need to be minimalist, but by considering it from a minimalist perspective you can eliminate anything you don't need and incorporate white space to give your letterhead a polished, professional appearance that lends credibility to your business.
5. Strong font choices
Carefully consider your letterhead font selections. They should be strong and symbolic of your brand and your message. This doesn't mean your fonts need to be bold – in some cases, even lightweight script fonts are perfect for letterhead branding – only that you should be able to make a convincing argument for each font you use.
6. Design on the back
Most of your letterhead front space is reserved for your message, but you can make a big branding splash by designing on the back of your letterhead. A large logo, illustration, photo, or other design element – rich with your company's brand colors, of course – can make your letterhead stand out and lend an impression of credibility.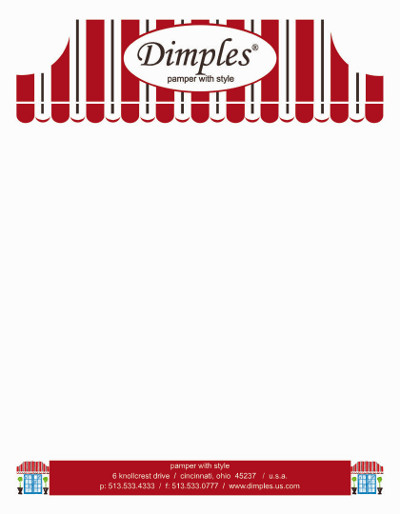 7. Add a foil stamp
Foil stamps are great design elements that can make your letterhead stand out and lend credibility, since many consumers will assume only credible businesses will take the extra step to add them. You can foil stamp your logo, header, headline text, sidebar, footer, and other graphic elements to print unique letterhead your customers will notice.
8. Add a border
A border can lend a distinguished look to your letterhead, so long as you're careful to avoid going overboard. Consider how a border might blend with your branding: a thin line, or double line, might work well for elegant companies, legal businesses, and B2B companies; while a thick, bold, colorful border might work well for fun, adventurous, and cutting-edge businesses.
9. Make it match your other materials
A cohesive design enhances your brand impact and can make your business appear more credible, so make sure your envelopes, business cards, brochures, envelope sealers, inserts, and other collateral match your letterhead design.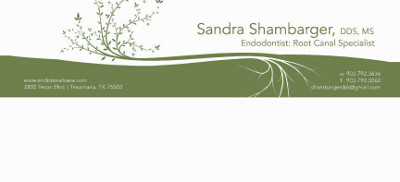 Top of letterhead design by Marisa Phillips for Sandra Shambarger, endodontist
10. Print premium letterhead
Never overlook the impact paper stock and inks have on customer perception. Print letterhead on premium paper stocks, such as a premium 24 lb. smooth stock or 80 lb. linen stock. Consider the tactile sensations customers will experience when they hold your letterhead – thick and heavy, smooth or textured, it should serve as an extension of your branding and add credibility to your business.
If you need help, you can get inspiration from our collection of free letterhead templates. Ready to print letterhead that makes your business stand out and enhances your credibility? Do it for less with premium letterhead printing at discount prices!