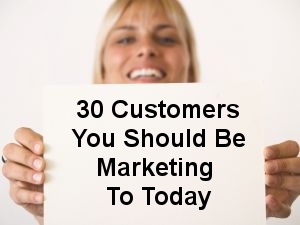 If you're a freelance graphic designer, web designer or own a design firm, you need to keep your client stable full by continually marketing your services. However, sometimes it can be difficult to decide who to market to. Small businesses, of course, are perfect customers; but which ones? The best marketing campaigns target specific niches. It's a good idea to develop a marketing campaign that targets these niche customers in your local area, obtain as many customers in each niche as possible, then move on to the next niche. Doing so will allow you to earn a greater response rate through targeting. One story I like to share from a former business I managed: two of our sales staff came in to my office to report they didn't know where to go next to seek advertising customers. Somewhat exasperated with their inability (or unwillingness, I'm not sure which) to secure their own leads, I picked up a copy of the yellow pages and dropped it on the desk in front of them. My point was made. Every company listed in the yellow pages has a need to market, and therefore has a need for graphic design services. Some, of course, represent better leads than others. The following 30 customers need graphic design services, and you should be marketing your graphic design services to them today.
Day spas
Hotels
Restaurants
Theme parks
Museums
Banks and credit unions/lenders
Car dealers
Niche retailers
Attorneys
Accountants/bookkeepers
Contractors/construction companies
Manufacturers
Schools/colleges
Fitness centers/gyms
Doctors and hospitals
Sporting goods stores
Radio stations and television stations
Newspapers and magazines
Ebook publishers
Blog managers
Mechanics
HVAC services and plumbers
Motivational speakers
Event organizers
Wedding planners
Financial advisers
Veterinarians
What other customers can you add to this list?