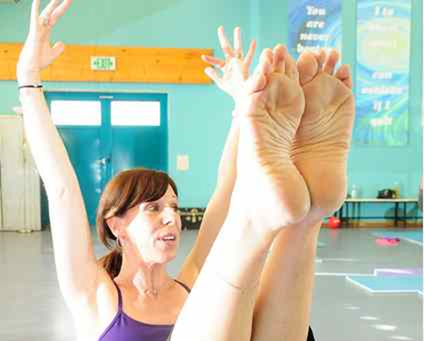 photo credit: heraldpost via photopincc
As I noted in a recent post, your desk job could be literally killing you. Working at a desk all day does more than damage your posture; it severely increases your chance of dying of a heart attack and developing conditions such as hypertension. Research has shown that even exercising later in the day doesn't offset the health risks of a desk job. If you're a graphic designer, marketer or other professional who logs hours at the desk every day, the only way you can ensure a healthy lifestyle is to get regular exercise at work. Doctors recommend doing something physical every 20 minutes, and you should vary what you do to incorporate a wide range of movements to give your body and health the full benefits. This isn't to say you should stop your current workout regimen; only that, if you don't take ample time to move every day during workout hours, you won't realize the full benefits of your workouts. Staying in shape at your desk job doesn't require heavy lifting, sweating, or even an excess of cardio. Mostly, it involves movement; it's the stationary nature of your desk job that threatens your health, so keeping your body in motion will keep you healthy.  If you want to stay in shape despite your desk job, try the following 30 tips.
Do 10 push-ups and 10 sit-ups on break.
Do 10 chair dips every 20 minutes.
Stretch your neck: front, back, right, left.
Take the stairs.
Bike to work (or lunch).
Try to touch your shoulder blades together (you can't, but this exercise will stretch your back).
Stretch your back: front, back, right, left, twist from side to side.
Touch your toes – and hold the pose!
Go to the water cooler or make copies on another floor, if possible.
Sit on an exercise ball instead of your chair.
Stand at your desk.
Do 10 squats on your break.
Pack your lunch – and don't  munch on candy.
Hit the gym at lunch – some  employers offer an extra half hour for lunch if you do.
Drink lots of water and set a water quota, which will keep you moving to the water cooler or breakroom fridge.
Perform leg extensions at your desk.
Instead of emailing your co-workers, walk to their desks to talk.
Lift small weights at your desk when possible, such as when on the phone.
Jump up and down: both feet, left, right.
When standing, roll up onto your toes then back down 10 times. Then, see if you can hold yourself in position.
Don't have weights? Do arm curls and raises with a water bottle, stapler or other object.
Shoulder shrugs: Put your shoulders as high as you can then rotate them forward and backward, 10 times each.
Pull your knees to your chest and hold for 10 seconds each.
Do "walking" meetings – instead of meeting in the boardroom, take your meeting around the block or through the park. Not only will you enjoy exercise, the extra oxygen will help stir creativity.
Stretch your calves by alternately pointing and flexing your feet under your desk.
Download an office/desk exercise app. All have great exercises you can perform at the office, and some even keep you on schedule so you don't miss opportunities to stay in shape.
If you have to drive to work, park as far as you can from your building so you have to walk farther.
Join or start an office workout group, which will motivate you and keep you accountable.
Stand whenever you're talking on the phone.
Shadow box (just don't take out your computer screen!).
Staying in shape at your desk job is important, but not difficult. Keep in mind that you want to live life and be able to enjoy all the things you're working so hard for, and incorporating daily exercise into your desk job is one of the best things you can do to increase your chances of health and longevity. What are your favorite office exercises?