When it comes to graphic design, you have more colors to choose from than what's in the big box of Crayolas your mom wouldn't buy you in third grade. Thousands more, in fact, which is why it befuddles me why some of the worst colors are continually employed in designs for posters, postcards, flyers, websites and mobile apps. I mean, you want your target audience to respond, right? So why repel them with ugly colors? From here on out, your job is to never again use the following five colors in your designs.
1.  Photoshop Red
For whatever inexplicable reason, Adobe likes to make its default "blending options" color a grimace-worthy shade of red. I have no idea whether they just feel red is a good baseline, whether they want to get your attention so you actually make color revisions, or whether they just want to make you feel better about yourself (since anything looks better than that disgusting hue); what I do know is that the color plain sucks.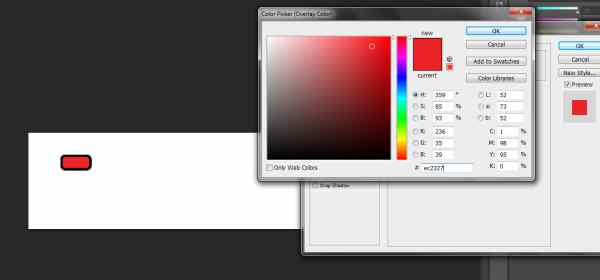 2.  Pure Black
If you're a graphic designer, you've probably heard the advice to never use pure black. Do you heed that advice in your designs?  Look around you, and you'll notice that almost nothing is pure black.  Add color to your darkest hues to make them more dynamic, and learn more about why you shouldn't use pure black here.

3.  Fluorescent Anything
It's time to face reality: fluorescent hasn't been in since MC Hammer topped the charts and "The Fresh Prince of Bel-Air" was on the air. You might be hanging on to your neon green and hot pink jams (and I have no doubt that you are – mine are electric blue and black!) – but it's time to let such assaults to human taste remain historical fact rather than become modern reality.
4.  Rust
What do you get after a night spent with three extra-beefy burritos, hot wings and plenty of cold beer to wash it down? The color rust, eventually, which of course is absolutely revolting.

5.  Pure White
Pure white is boring and uninspired. It has no character.  Instead of making your backgrounds and other light designs white, try a nice cream, ivory or seashell to add depth.

Now it's your turn. Do you agree with me?  Why or why not? What colors do you refuse to use?