Business cards are your go-to networking and marketing tools when you make new contacts and send direct-mail communications, but chances are you're not using business cards to your full advantage. The following details five critical elements missing from your business cards – add them in, and you can command more attention and generate more follow-ups than ever before!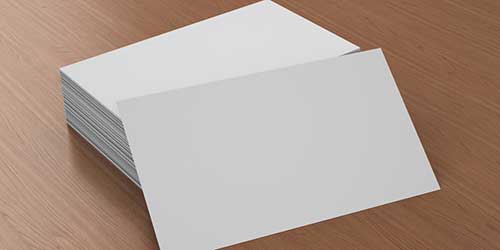 1. Benefit statement
Why should prospects choose you over your competitors? Your business card should clearly spell that out. Perhaps you're the most experienced real estate agent in your local area. Perhaps you're the seller's advocate. Perhaps you're the attorney that will fight for your client's rights, or the most thorough and cost-effective mechanic in your area.
Memorable taglines are cool, but if your business card is missing a statement that separates you from the back by clearly conveying what you do better than anyone else, you're missing sales.
2. "Text me"
Texting is ubiquitous in modern society, yet few businesses encourage customers to text them. It's a major oversight, especially among client-driven companies that make their money from one-to-one relationships.
Include your cell number and encourage customers to text you any time. By doing so, you're opening a communications avenue they're comfortable with and working on their terms. You will be rewarded with more follow-ups.
3. Social profiles
How can customers find you on Facebook, Twitter, LinkedIn, and other social media networks? Like texting, these are the preferred communications platforms for many prospects – particularly those in younger generations, where you'll find a steady stream of new customers if you're willing to cater to them.
Don't ask them to "follow" you – instead, invite them to direct message you via social media. Again, your reward will be increased follow-ups.
4. Unique design
Still sporting the standard rectangle business card? They're great for traditional businesses, but if you want to attract a non-traditional crowd you need to be willing to think outside the box. Consider die-cut business cards, folded business cards, and ultra business cards to visually differentiate you from the competition.
Don't forget the impact your business card paper stock can have; for example, velvet soft-touch business cards lend a tactile sensation prospects will notice.
Similarly, rethink your business card layout. Perhaps you should opt for a vertical business card. Or, replace that old mugshot with an action shot of you doing whatever it is you do best. Consider how you can use design to convey your unique selling proposition and make you the most attractive candidate to customers.
5. Interactive media
What can prospects do to learn more about you and your company? Simply go to your website or social media page? Everyone's doing that. Instead, create special interactive content customers can visit, and place an easy-to-follow link to it on your business card.
One great example: create a video that demonstrates the benefits of working with you and how your products and services are better. You might even include a case study or two, or some testimonials. Post the video online, then add the text "See how I can help you at [url]" on your business card. Make it simple for customers to learn more!
Ready to give your business cards a makeover? Do it for less with premium discount business card printing!