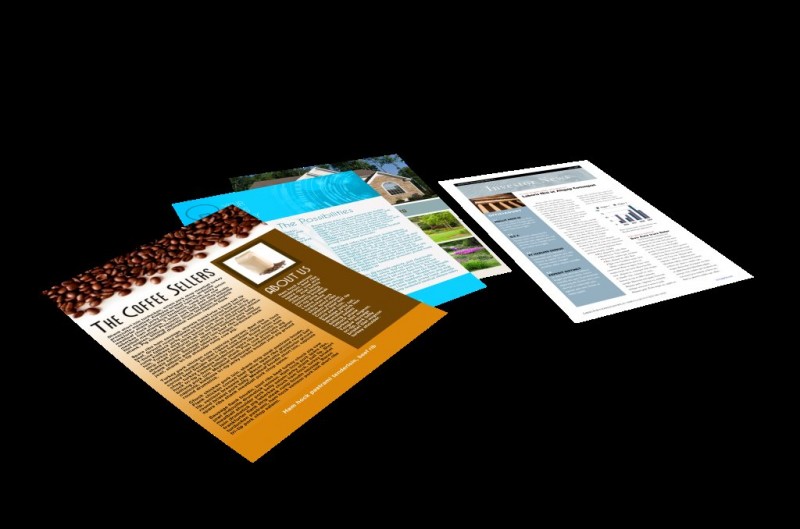 Sales sheets are powerful marketing tools when done right. Design is one of the most important factors to successful sales sheet printing. While customers will respond to a great offer and call to action, design is the catalyst that commands attention and helps direct readers' eyes to the most important (and influential) information on your sales sheets. Design can also help clarify difficult information, conveying it in a simple and easy to understand visual format. If you want to design more effective sales sheets, try the following five sales sheet design tricks that generate response.
1.  Bold, powerful headlines
Design your headlines to be big and bold with easily read fonts. It's also best if your headlines reveal a key customer benefit to help motivate desire. Employ color to make your headlines stand out from black body copy.
2.  Large images
Large product images, before-and-after photos of services, and pictures of happy customers should all be large in order to attract more attention and lend the impression that your sales pitch is trustworthy – in essence, that you have nothing to hide. Customers respond better to large images, which also adds a modern touch. It's a good idea to show products in-use whenever possible so customers can envision ownership more easily, which also helps motivate desire.
3.  Charts and graphs
When you have a lot of data, or data that is difficult to comprehend in text, use colorful charts and graphs to make it easy to understand. Compare different product types, service levels, or features and benefits versus competitor offerings. The goal is to showcase why your product or service is the best choice for your target customer base, visually and at-a-glance, so customers don't have to process a lot of text to come to that conclusion.
4.  Big and bold calls to action
Like your headline, your call to action should be big, bold, easy to read, and in contrasting color. You need to make it clear what customers should do next, and by what deadline, in order to take advantage of your special offer. If you can reiterate your key customer benefit in your call to action, all the better.
5.  Pull quotes for testimonials or results
If you have verifiable customer testimonials or case study results, reveal them in a single attention-commanding line via a bold, big, and colorful pull quote. Besides your images, headline, and call to action, your pull quote will be one of the most important things your customers notice and remember. Case studies and testimonials also lend third-party credibility and help customers associate themselves with specific situations – in short, they demonstrate that your product or service is the perfect solution to their problem. What other sales sheet design tricks do you know?