Would you give up a dream job to pursue your passion? That's what designer BJ Zink did when he left renowned global marketing agency Wunderman to embark on a professional path that ultimately led him to launch Worn & Raised (WANDR), a Chicago-based graphic design studio supplying "quality-bred collections of prints and posters neatly drafted in a simple, refined style." WANDR's first collection, the City Icon Series, illustrates the architectural excellence of 10 landmark structures, including the Golden Gate Bridge (San Francisco), Marina City (Chicago) and One Liberty Place (Philadelphia). As Zink puts it, his City Icons are "symbols of beautiful, unique construction that cause pause and deserve admiration not only for their appearance, but for their achievement and purpose." We caught up with Zink, who continues to work as a freelancer while WANDR grows, and asked him to reflect on the contrast between agency work and personal passions, the challenges of self-branding, and what it takes to make the leap from employee to entrepreneur. In this six-question interview perhaps you'll find the inspiration – the spark you need – to pursue your own passions.
You spent two years as a Senior Designer at Wunderman, a global marketing agency. As you noted, it was a dream job – exactly what you set out to achieve after college. Why leave? And, can you contrast agency employment versus studio ownership? My decision to leave Wunderman can ultimately be summed up as an opportunity to take the next steps in personal growth. I believe it's always important to be looking five steps ahead in how to better myself and to make the most of the freedom to do so. Could I have stayed at Wunderman for longer? Absolutely. But the chance to team up with someone with the same values, creative capabilities and outlook doesn't come along every day. So I jumped at it. Sure, I left a position that I had aspired to achieve. But I was able to take with me all the experience and knowledge I had gained and apply it to something new and something more desirable. When I left Wunderman, I set up shop with another designer, Sean Mahoney, who was about a year into running a solo operation called Foothold Design. We had worked together at Wunderman, so continuing the relationship made perfect sense. Working in a two-man shop versus owning a studio as an individual proprietor are pretty similar in terms of responsibilities, efforts and goals. But when compared to agency employment, the roles vary greatly. Internal responsibilities that were once handled by a number of different individuals and groups are divvied up between two people – or for me now, as one person. You've got to learn to adapt, wear a ton of hats and be able to manage the business in other areas outside of creative duties. I'd say that this upswing in responsibilities is the basis of the main difference between agency employment and running a studio or even working as a freelancer. You do it all. And with that comes a wonderful feeling of ownership in everything you produce. As a creative, that's a valuable asset and a true feeling of accomplishment. We're artists, and as such, have our own personal visions for our creations. To be able to control the work and personally evolve it from inception to completion is a blessing and doesn't always exist in the big agency world. I don't mean to sound greedy, but like I mentioned, we're artists and we have a personal connection to our work. We're driven to watch our ideas come to life.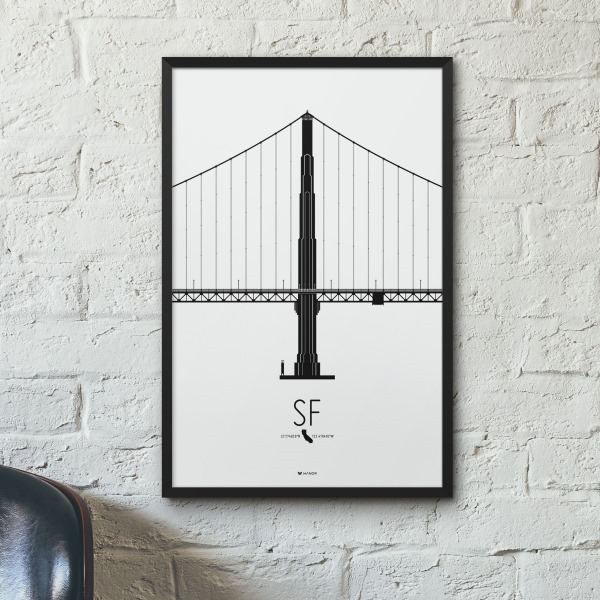 What was the impetus behind Worn & Raised? What was the pivotal moment when you realized you were going to make it happen? What is your ultimate vision for Worn & Raised? Hmm. Great questions. I'd say the motivation behind Worn & Raised stemmed from a couple different avenues. First, all the great designs that are out there in the world today. From flipping through books, walking down Chicago allies, visiting galleries and definitely browsing the web, it's not difficult to spot some amazing and very inspirational artwork. I got a sense that I wanted to become a part of that. I wanted to create art and share it with the world. I wanted to take pride in making something from nothing. The other major factor that helped bring WANDR to life surfaced as I began working as a solo freelance web designer and developer when Foothold closed up shop about two years ago. I quickly found that with freelance comes a lot of freedom. Unless you're scrupulous at establishing and maintaining real business hours, they simply don't exist. You'll find yourself working all hours of the day and night. And down-time is bound to happen. It's really tough to avoid, but you can make the most of it. So during the periods of little client work and the open working hours, I decided to begin building a brand for myself. I didn't know exactly what I wanted it to be at the time, but it had to start somewhere. From that point, it took some time before I realized that I was actually going to bring WANDR to light. For a few weeks, I had kicked around the logo and branding, along with some early notes for design ideas. I then let it rest when client work picked up. Came back to it. Updated things. Added more ideas. And again set it aside for a while. Then finally about a year into it, I landed on the realization that the City Icon series would be the initial work that I'd set free into the wild. These pieces were the ones that I kept coming back to in my notes and sketches, and they were the ones that I felt most confident in using to represent the introduction of the brand. So I spent a couple months finalizing the first batch of 10 cities and a couple more months creating the website. And here we are. My ultimate vision for Worn & Raised? Well, that's sort of open-ended. But I do know that I want it to be a conduit that is totally separate from my web design work. And this sort of goes hand-in-hand with the impetus behind it all. I want it to be a place where I explore more traditional artwork, specifically in printmaking. I'd like to continue to grow the City Icon series to be 50-plus cities. I plan to produce other types of work using other techniques such as screen printing and block printing. It's a way for me to keep the ubiquitous creative juices flowing and to make something from the heart that I'm truly proud of.
What was the most unexpected challenge you faced when bringing Worn & Raised to market? How did you overcome it? This is sort of a tricky one. Probably more because it delves a little bit into my personality. You can ask any number of people that I've worked with in the past – I sometimes get way too close to my work. So much so that I can't see the forest and I'm only staring at a single branch. I get so focused on the tiniest of details that I become a little too judgmental and always feel like it can be better. It's a blessing and a curse, I guess. And I've learned to work through it better over the years. So with bringing WANDR to market, that was the biggest challenge. It may not have been totally unexpected, but it definitely reared its ugly head. I overcame it with reasoning and reassurance, both with myself and with friends and other creative professionals that I talked with about the business. I think I had become so surrounded by everything WANDR that I just needed to take a couple steps back, get feedback and motivation from others and just set it free. And it was a huge relief to finally press the go button.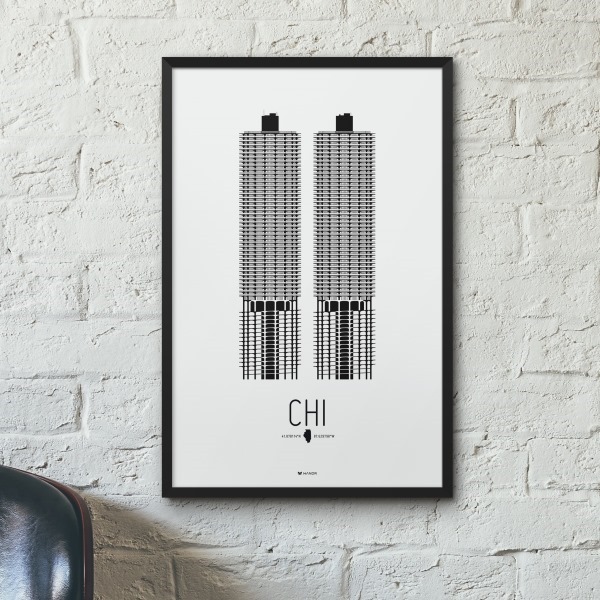 You've created designs for global brands. Do you find it more challenging branding clients or your own company? Why? My own company. Hands down. There's less of a personal attachment when working with clients. Don't get me wrong. I'm not saying there's less interest or lower quality output, but creating designs for someone else carries a lesser feeling of finality. What I mean by that is designing for myself is a lot like deciding on a tattoo (and I don't have any tattoos). There's a constant internal nagging of if it's good enough or if it truly represents my brand in the best possible way. With client work, someone else makes those decisions for you.
Why did you select major city icons for the first phase of Worn & Raised? Market size? Design styles? Personal passion? Something else? Was it a calculated choice or inspired, and how do you find a balance? It was a mixture of all of those. Creating and selling artwork carries an obvious niche in market size. Nobody's buying posters on a daily basis. And when segmenting that down further with a specific design style, it does pose a challenge to gain the greatest return on interest. I opted for the City Icon series for the initial phase because I could literally cover the globe when it's all said and done. From that standpoint, it was a highly calculated choice. With this introductory launch of 10 posters, I chose cities that are all within the top 15 in population within the US. Well, except Seattle – but the Space Needle is so iconic and beautiful that I had to include it. So combining the potential outreach to a large volume of locals with an additional attraction from others that have lived in or traveled to these cities, I felt it was a pretty optimal starting point to engage the most eyes. The design style for this series is one in which I'm very fond. I love the impact that a rich black makes against a pure white. That high contrast blended with the clean and sharp edges of the illustrations makes for a nicely polished look. They're powerful. They're attention-grabbing. And I'm proud of the results. To me, that's the most important thing. I've got to love what I do. Otherwise, why do it? And in that, I find the balance.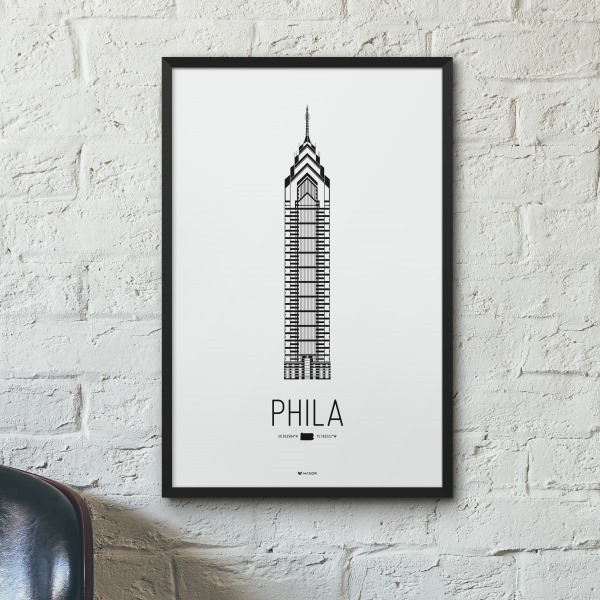 Worn & Raised recently launched, and you're careful to be clear you haven't yet reached the level of success you're seeking. Still, do you have any advice to offer agency designers and freelancers who are considering a leap to retail artwork? That's a loaded question. And definitely not a super easy one to answer. I'll give a shot, though. Number one, it's going to take time. It's going to take time to build your business, and it's going to take even more time to turn it into a profitable business. You need to be able to dedicate yourself to and accept that time. And unless you've got a money tree in your backyard, I wouldn't recommend leaving your current job to create that time. You'll definitely want to maintain a source of income. Use your nights and weekends to build the business. It's a small price to pay if you're working toward something you really want to achieve. Keeping a steady source of income will allow you to preserve financial stability as well as continually invest in your business. Sure, it will take longer to bring it all together. But it's a lot less risky than dropping everything with your fingers crossed hoping for a miracle. Second, set goals for yourself and make a realistic schedule to achieve those goals. Treat yourself as you would a client, and maintain timelines and checkpoints. It's something that I didn't do in the beginning and wish I had. Once I did, the process moved much more fluidly. Third, gain as much information during the process as possible. Even if you think you have a pretty good idea for what it takes to create and maintain a business, you can always learn more. I'm still learning, and that will never end. Talk with others that have already established a business like you want to create. Most entrepreneurs are ready and willing to discuss their experiences and answer any questions you may have. Attend workshops and seminars pertaining to startups and building a business. They're chock-full of useful and vital information. And they're wonderful places to network and brainstorm with others that are in the same boat as you. Read, read and read some more. I'm not a big book reader, but luckily for all of us, the internet has an incredible amount of articles on the subject. I ultimately opted to use Shopify for my ecommerce platform. Their blog actually proved to be an invaluable tool for me and one in which I frequent often. Last, and probably most importantly, be passionate. Give it 100 percent. Embrace the challenges. Have confidence in yourself and confidence in what you create. It will be worth it the end. Check out Zink's work at WANDR today to get an exclusive offer available only to readers of the PsPrint Blog! Use coupon code WRPSP25 at checkout to get 25% off your order. But hurry, it's only available to the first 100 customers! Keep up with WANDR on Facebook, Instagram and Pinterest.