Are you hosting a St. Patrick's Day event? Posters can be some of the most effective marketing tools you can use to promote your event. Not all posters are created equal, however, so take advantage of the following seven poster design tips to sell your St. Patrick's Day event and attract the crowd – and profits – you're seeking.
1. Use typography for emphasis
Mix up your poster typography to emphasize the most important information; for example, the name of your event and its date, time, and location. Other important information you need to draw attention to include your call to action and the benefits or perks of attending your event.
This isn't to say you should incorporate a dozen different fonts into your design, but two or three fonts – or even different variations of a single font, such as bold and italics – can help you emphasize key points without making your poster appear amateurish.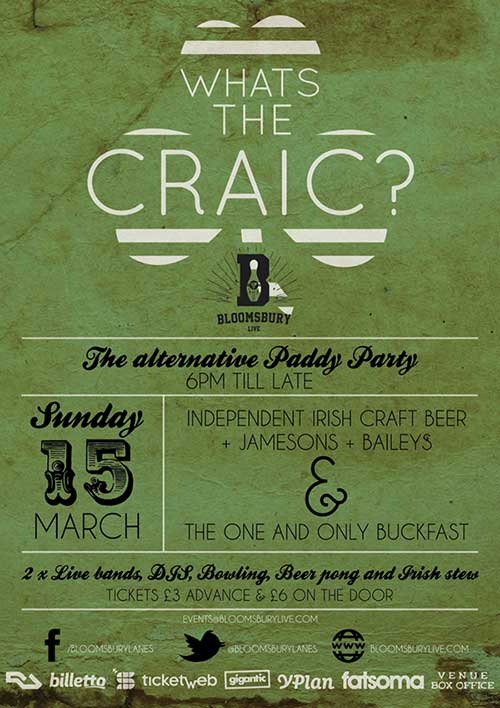 Poster design by Emma Patrizio via Behance
2. Feature the unexpected
Unusual and unexpected imagery and colors will help you St. Patrick's Day poster stand out from the competition. You don't want to lose the holiday's overall theme, but at the same time you can incorporate unique visuals that help you stand out from competing events.
Consider that your poster will likely be placed on walls alongside with competing events, all bearing different shades of green and likely featuring leprechauns, pots of gold, and other traditional St. Patrick's Day images. Now, brainstorm ways to make your poster different. If your design does call for a leprechaun, for example, think of different visual twists you can make to make your event command attention.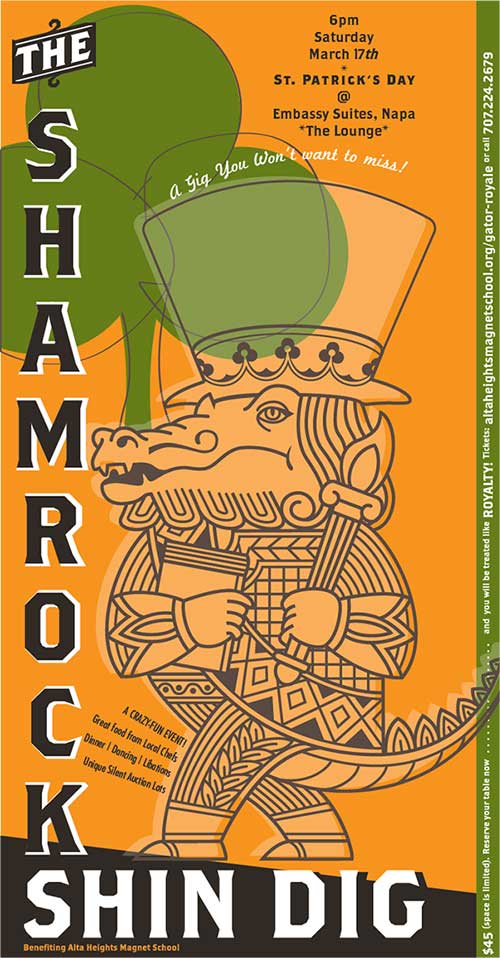 Poster design by Amy Linn via Behance
3. Incorporate a central visual
Resist the temptation to pack your poster with tons of relevant images, which can make it visually confusing. Instead, settle on a central visual that captures the essence of your event. Simplicity can be powerful, when done right.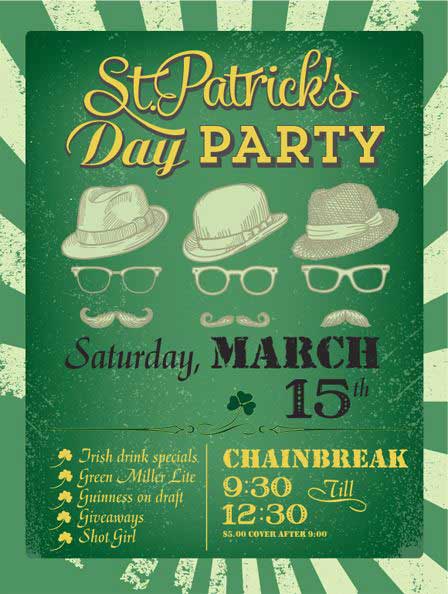 Poster design by Sharon Hoffman via Behance
4. Make it easy to read from a distance
Consider where your poster will be placed and the average distance it will be viewed from, then make sure your typography is easy to read from that distance. That means less text and large fonts, fewer images and a bold central visual.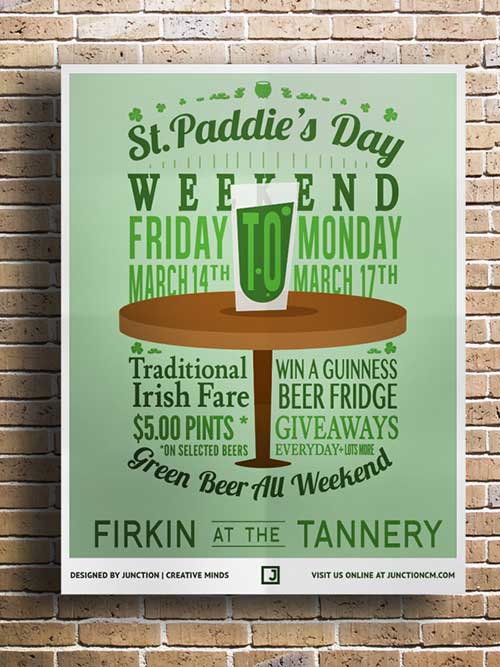 Poster design by Junction | Creative Minds and Jennifer Boergers via Behance
5. Use lots of white space
White space is your friend because it creates natural separation and flow, thereby drawing attention to the most important parts of your poster design. Good use of white space will help your poster get noticed and make it easy to understand.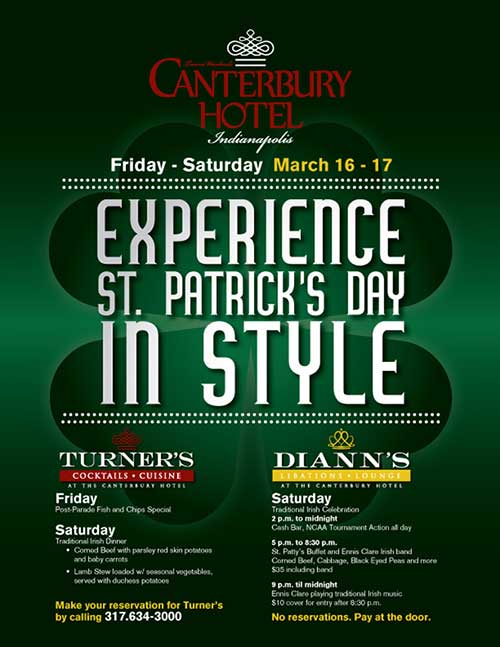 Poster design by Creative Roots via Behance
6. Don't forget a call to action
Make it easy for your audience to understand what they have to do next to attend your event. Can they get tickets online? Do they need to make a reservation via phone? Or can they just show up at the door? How much does your event cost? Incorporate a simple CTA statement such as "Get tickets online at [YOUR WEBSITE]" to make it perfectly clear what your audience must do next to attend your event.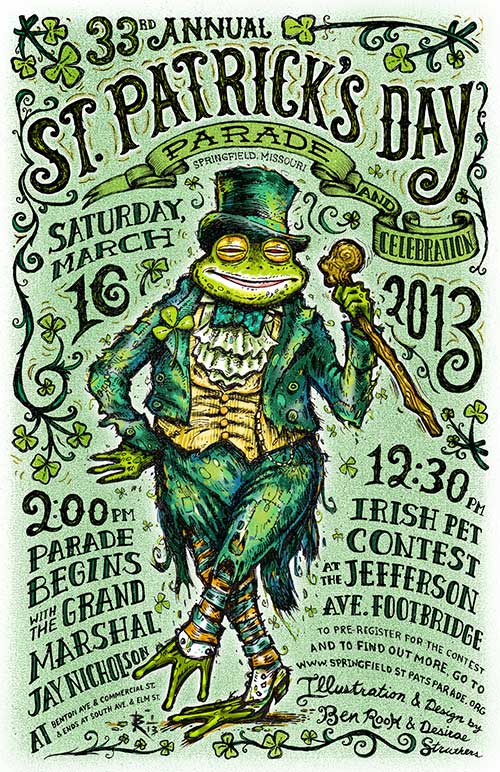 Poster design by Desirae Struthers via Behance
7. Employ creative printing
Finally, you can make your St. Patrick's Day poster even more unique by employing creative printing techniques. For example, a UV coating will add a bright glossy sheen to your design. A die-cut poster shape will give you an attention-getting edge over competing events. Or, use custom foil stamps to make your typography stand out.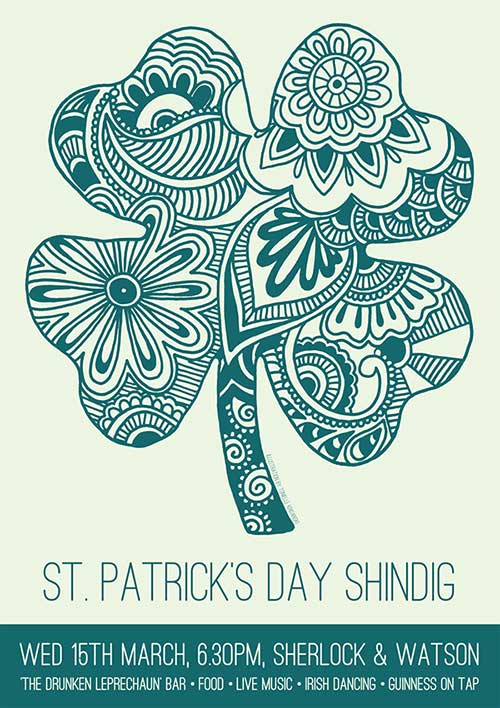 Poster design by Tonielle Krisanski via Behance
Ready to design and print your St. Patrick's Day poster? Get custom poster printing at discount prices!