I love Amazon. It has a lot of stuff, but that's not why I like it. It's ingeniously marketed. The company is also innovative (1-click ordering and Kindle come to mind). Since the products on Amazon make my life easier, I thought I'd share some things I found on Amazon that would make any graphic designer's life more comfortable.

Adjustable-height monitor desk clamps: The top of your monitor should be even with your eyes to help you avoid back and neck strain, and this dual-monitor model lets you complete your designs in comfort and ease. If you use a laptop, try an elevated laptop stand and a desktop keyboard and mouse to keep your neck and back in the correct sitting positions.

Kneeling desk chairs take the strain off your back and neck. I like to switch on and off between sitting and kneeling (and sometimes standing). Can you tell I spend many hours at the computer?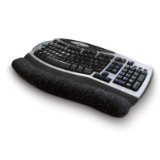 Despite the Apple-like flat keys prevalent on many keyboards today, ergonomic keyboards can still make a big difference if you have to type a lot.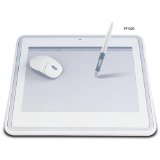 Drawing tablets —When you tire of trying to get the pen tool to do something you can freehand in seconds.

Beer: The cure for unappreciative clients, impossible workloads, and spouses who don't understand why you work so many hours. And since you like to create, you can make your own beer with this kit from Mr. Beer. Yes, I've done this. And it was delicious indeed.