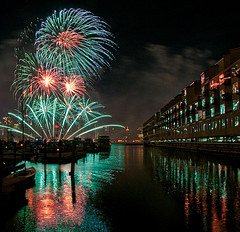 Looking for a way to spice up your New Year greetings this year? Want your New Year greetings to pop like fireworks? Here are my favorite tips for dressing up greeting cards with creative design and printing.
High-gloss paper – For a brilliant sheen, I recommend a high-gloss paper stock such as 14-point glossy cover. For even more brilliance, finish with a glossy UV coating.
Sparkling foil stamps – Intelligent use of foil stamping can turn any New Year greetings into masterpieces. Stars, dropping balls, numbers, words, silhouetted shapes (including fireworks!): You name it, and a foil stamp will make it sparkle and glow.
Oversized printing – I don't always agree with the adage that bigger is better, but in this case I do. The surefire way to get your New Year greetings noticed in any mailbox is to overshadow everything else in it. You can print custom greeting cards up to 13-inch by 17-inch in size, but for me even a 7-inch by 5-inch is large enough to stand out from the crowd. It's like the grand finale!
Bright, contrasting colors – Fireworks light up the night sky because they contrast so well with the deep black and blue backdrop. The same is true for your greeting card designs: If you have bright, contrasting colors they'll scream for attention without ever making a sound.
Have you designed New Year greetings using these techniques? If so, please share – drop me a link below so I can see your colorful creations!
Image use Creative Commons license via Flickr.