High-speed, or freeze-motion, photography has joys multifaceted: It can reveal brilliant colors and patterns and enlighten us as to the way things work. Those things that happen so quickly that they are not registered by the human eye, often explosive in a nature yet so minuscule that one would hardly notice, can be also be some of the most entertaining events on the planet – as the following 10 amazing high-speed photos attest. I tried to pick a few unconventional examples, some you might not have seen before – see if you can use them for graphic design inspiration!
1. Color explosion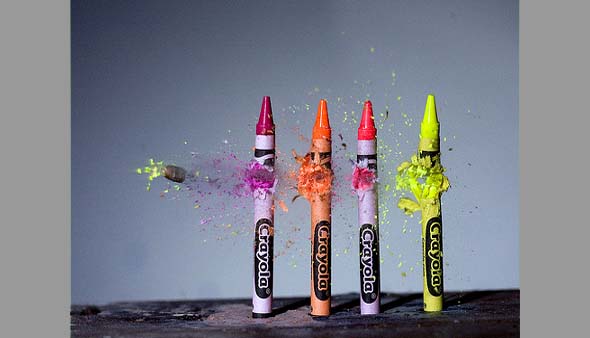 A bullet searing through a line of crayons spouts colored wax pellets in a random speckled pattern that might make a good backdrop for an explosive ad. 2. Bah humbug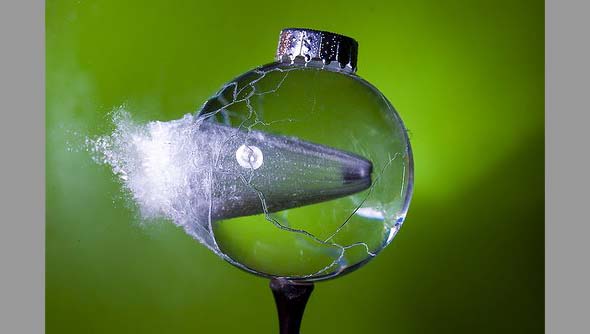 Ebenezer Scrooge would be proud of the hillbilly who got a lump of coal for Christmas instead of the Winchester Model 101 he asked Santa for. Apparently, he took it out on this ornament. 3. Paintball will never look the same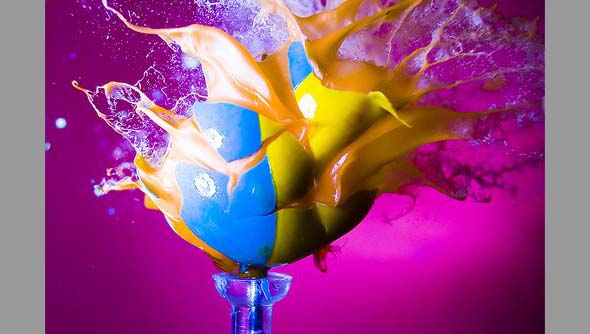 Not after you see this freeze frame of a paintball exploding. It's like a liquid nebula! 4. A flying saucer in a milk saucer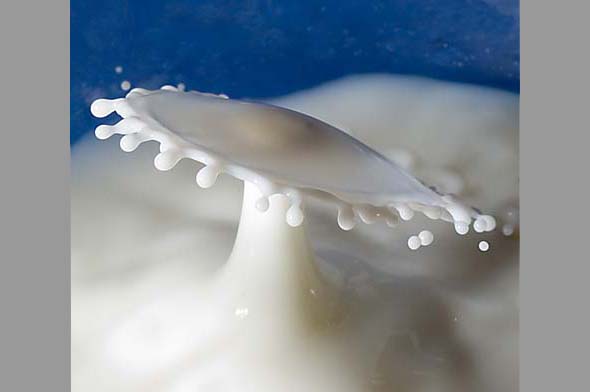 This splash of milk forms the shape of a flying saucer with shunted tentacles ... at least that's what it looks like to me. 5. Death to the Jack of Diamonds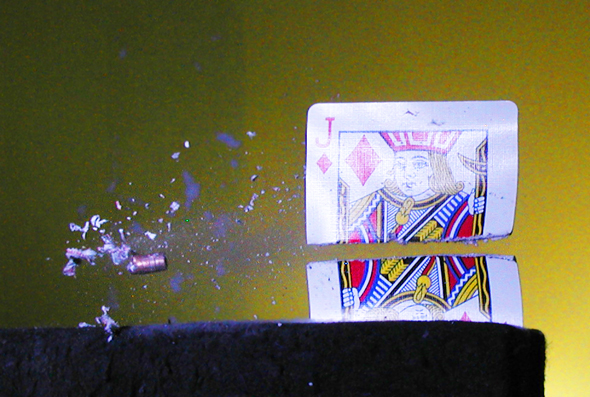 Bullets are popular with high-speed photographers – some even call it bullet art. Notice how the paper shards look shattered rather than torn. 6. Wet behind the ears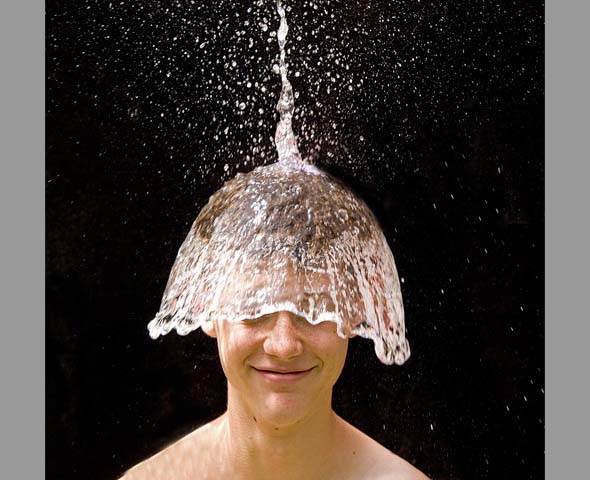 Water has amazing and unique tension properties than can only be fully appreciated with freeze frames. 7. Water balloon drop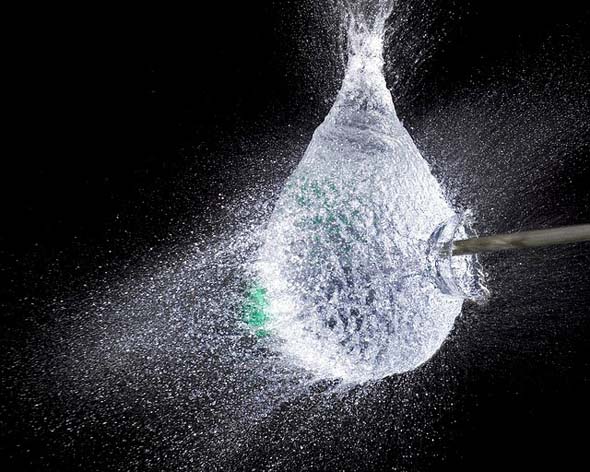 I never realized that water, however briefly, retains its shape when you pop a water balloon. 8. Steel spoon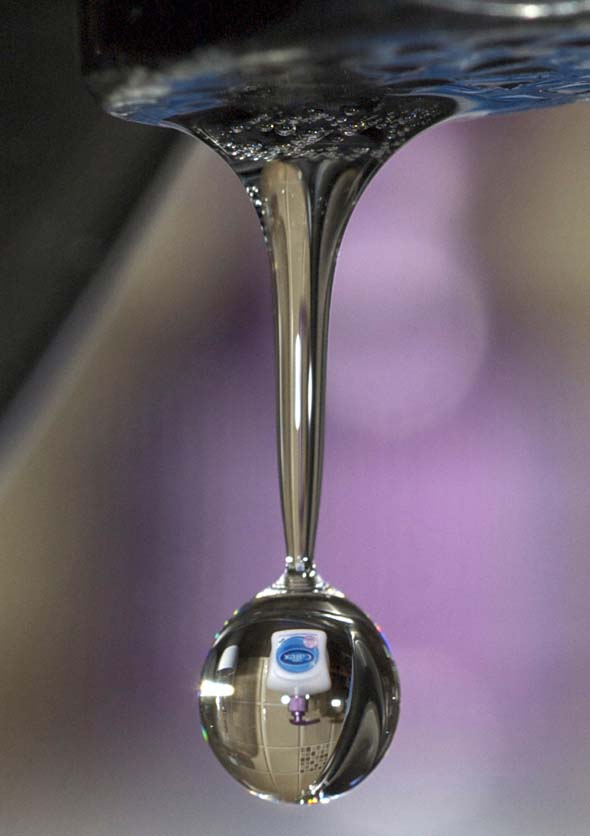 At least, that's what I think this lingering drop of water looks like as it drips off the faucet. 9. A splash of color here …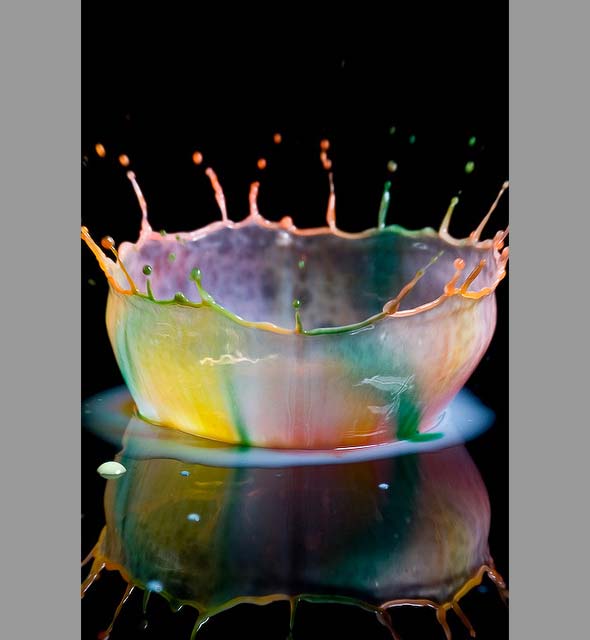 I'm not sure if this is milk with food coloring or something else, but I love the colorful splash it produces. Want to try a fun experiment? Pour milk about a quarter-inch deep into a casserole dish, dot it with food coloring, then drop a wee bit of dish soap in the middle. 10. Fuzzy flower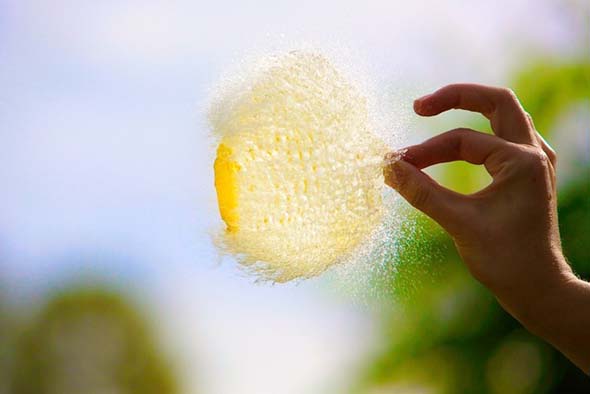 Water balloons can look like large, puffy, fuzzy flowers when popped and captured at high speed. Want some more great high speed photography images? Try this Flickr group. For sports fans, "Sports Illustrated" has an awesome slide show with several high speed shots here.