Thank you cards are perfect for expressing your appreciation after a special event: your wedding, graduation, anniversary, birthday, or even a business sale or nonprofit charity fundraiser. Thank you cards are personalized greetings that show others how much you appreciate them, so don't settle for generic store-bought thank you cards. Instead, make your own custom thank you cards with PsPrint's free thank you card templates and online design tool. Here's how to design and print your own custom thank you cards.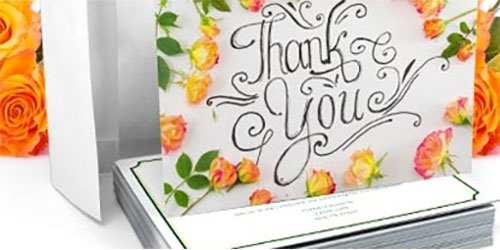 STEP 1: Choose a thank you card template
Browse PsPrint's library of thank you card templates for any occasion. You can choose a folded thank you card template or a flat, postcard-style thank you card template.
Each template was crafted by a professional graphic designer and is easy to personalize. Start by choosing your size, edge finish, and a color scheme that suits your sense of style.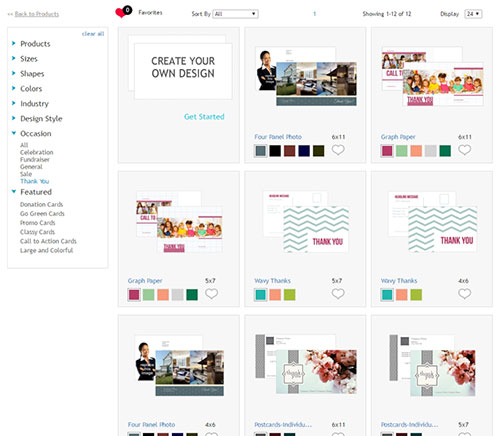 STEP 2: Personalize your thank you cards
Once you've selected your favorite template and color scheme, use the online design tool to customize your thank you cards. Simply follow the on-screen prompts to:
Add your own personalized text
Upload your own images or logo
Add design elements, adjust colors, and tweak the layout to your satisfaction
It takes mere minutes to turn a thank you card template into a personalize thank you card design that's uniquely yours.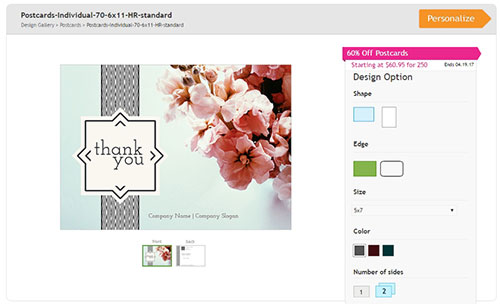 STEP 3: Print your thank you cards
When your design is complete, select your print options and check out. PsPrint will take care of the rest! You can choose between different premium paper stocks, select scoring or have your thank you cards pre-folded, and desired production and shipping speeds.
Complete your thank you cards with matching envelopes, envelope sealers, and return address labels. Your thank you cards will be delivered to your door in a few days; or, if you'd like, you can even upload a mailing list and let PsPrint handle the mailing for you.
You have a special message to send, and generic thank you cards just won't do. Personalize your message with custom-designed thank you cards – no graphic designer needed – today.