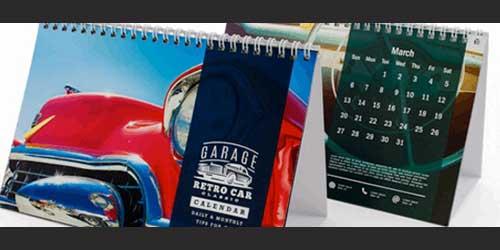 Desk calendars can prove to be a profitable revenue stream that's perfect for photographers, designers, and nonprofit organizations. Whether you want to sell your work or raise funds for your cause, the following details how to design and sell your own desk calendars.
Design your own desk calendars
Start by downloading a free desk calendar layout template from PsPrint. These templates do not include graphics; rather, they serve as guidelines so you can properly size and position your artwork.
Open your desk calendar template in your favorite design program (Photoshop, for example), then add your unique artwork. Ideas include:
Your unique designs

Photographs of events, landscapes, places, and people

Photographs of a school and students, memorable sports season, or alumni

School logos, mascots, and other designs that inspire pride

Photos and artwork relevant to your audience or cause: animals, vacation destinations, and anything else you'd like
Place your artwork in the template; don't forget you can feature different artwork for the cover and interior pages!
Print your own desk calendars
Once your artwork is finalized, it's easy to choose your printing options. They include:
Paper stock: 100 lb. gloss cover with 100 lb. gloss text are perfect paper stocks for desk calendars. Add a sturdy 16-point pop-up base to keep your desk calendars standing year-round.
Size: 8.5-in. by 5.5-in. is a great size for desk calendars that are useful, attention-getting, and attractive.
Binding: Choose between white or black wire-O binding to keep everything together.
Quantity: You can print as few as ten desk calendars – or as many as you want!
Production and shipping: Expedite printing turnaround and shipping speed to get your desk calendars even faster.
Sell your desk calendars
Once your desk calendars are printed, all that's left to do is sell them. Ideas include:
Send direct-mail postcards to alumni and past non-profit supporters

Add desk calendars to your existing catalogs

Send flyers home with students or hand them out at existing events

Partner with retail stores, campus bookstores, and other outlets to sell your desk calendars on consignment

Promote your desk calendars on your website and social media pages
Ready to design and sell your own desk calendars? Get premium desk calendar printing at discount prices to maximize your ROI!