Want to make your own holiday cards but you're too strapped for time? The hustle and bustle of the holiday season can certainly limit your availability, but at the same time you know sending personalized holiday cards is both fun and rewarding for you and your recipients. The good news is you can make your own holiday cards if you can spare 30 minutes – or less.
Custom holiday card printing makes it easy to feature:
Family photos
Kids' pictures
Kids' artwork
Newborns and baby's first Christmas
Funny family moments
A collage of the past year's photos
Your small business brand and team
Your own poetry, sentiments, and other custom text
Anything else you'd like!
The following details how you can make your own holiday cards in 30 minutes or less.
STEP 1: Choose a holiday card template (5 minutes)
Browse PsPrint's free holiday card templates to select your favorite design. Each template was created by a professional designer, yet is completely customizable so you can make your design unique.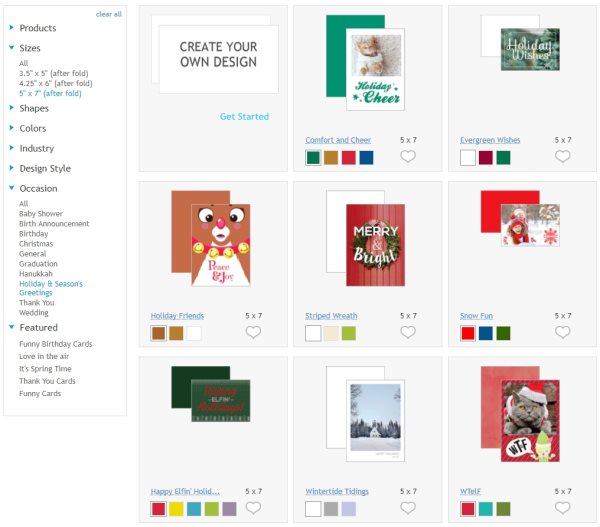 As you can see, you can apply filters such as size and color to narrow down your results. You can even start with a blank canvas, but for our purposes we're going to make it easy by selecting a pre-designed template – this one for a photo card.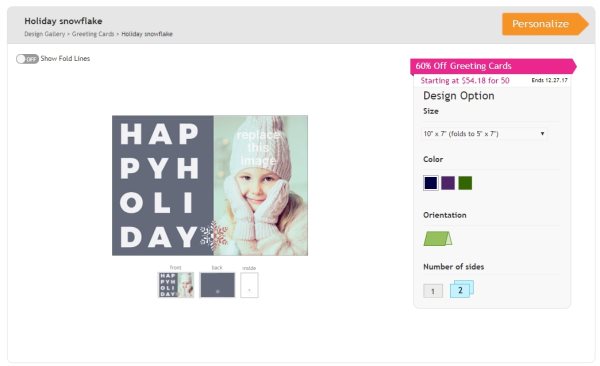 We've selected the Holiday Snowflake card, and on this screen you can select your size, color scheme, and number of sides (choose one side to print flat holiday cards, two sides to print folded holiday cards).
We're going with the green color scheme on a folded holiday card.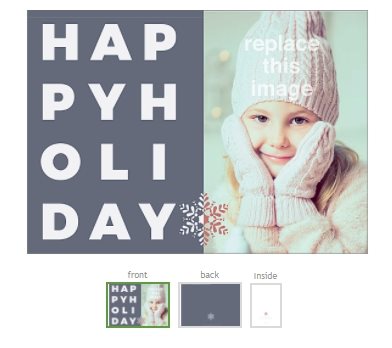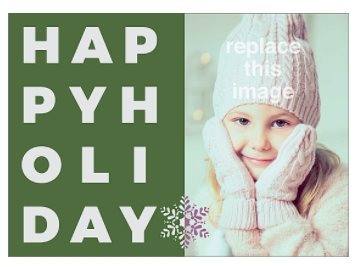 Next, click the "Personalize" button to turn your holiday card from a template into a custom design.
STEP 2: Customize your holiday card (20 minutes)
The online holiday card design tool gives you everything you need to personalize your holiday card. We want to add our own photo, so we select the image and choose "Select from my computer" to upload a new image.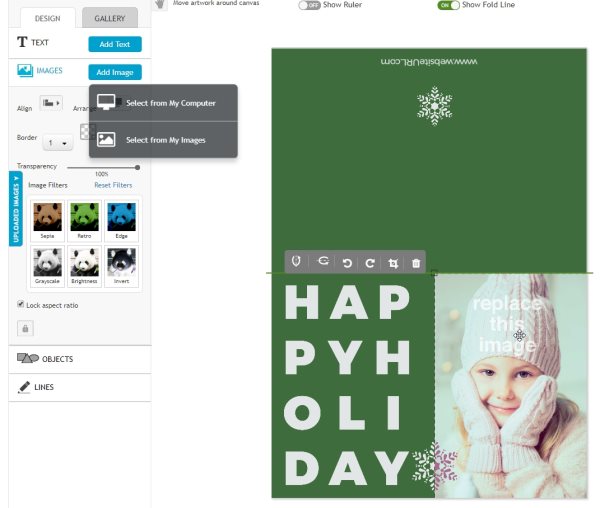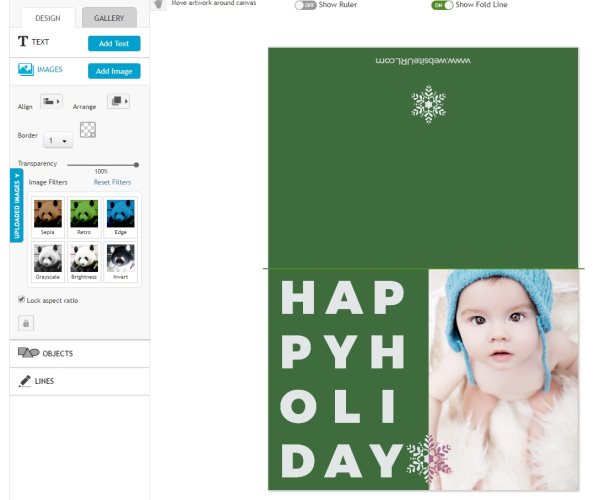 Now, we can leave the photo as-is, drag it around the canvas to reposition it, or get a little crazy with filters. Let's try the "Retro" filter.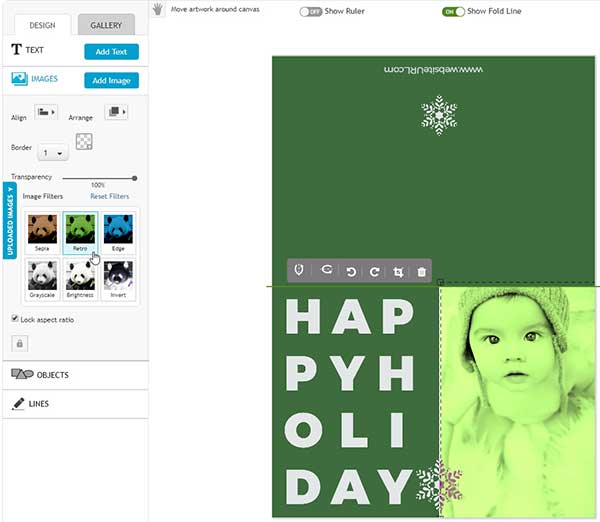 We want to stick with the original image, but we'd also like to add some fun text on the front of the card. It's easy to do with the text tool.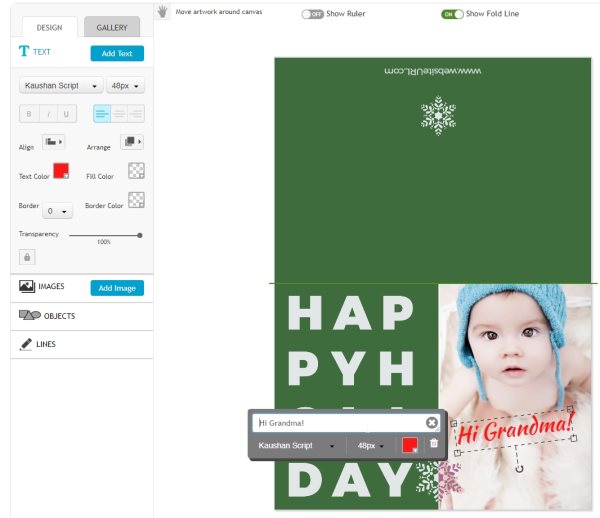 You can also add lines and objects, such as shapes, but we're going to leave the card as-is and move to the interior.
You can edit any existing interior text or add your own text, objects, lines – and even photos with the sidebar tools. When you're done with the interior, you can do the same on the back of your holiday card.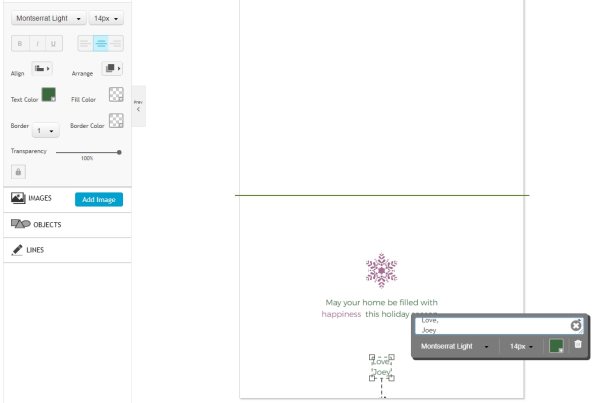 Once your design is complete, you can check out a 3D preview of your artwork.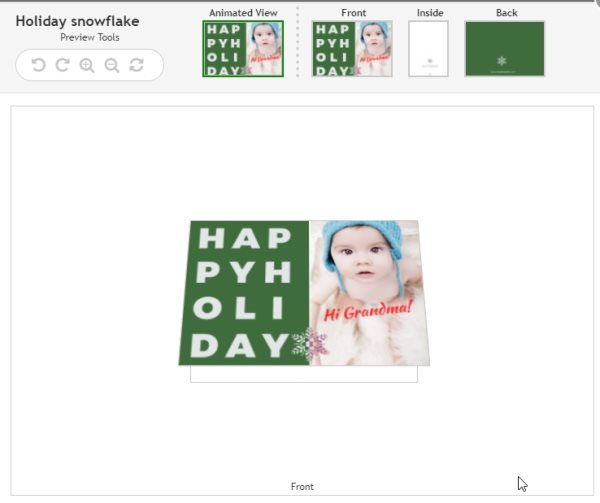 When you're satisfied with your design, click the "Get Price" button.
STEP 3: Choose your holiday card printing options (5 minutes)
All that's left to do is select your holiday card printing options and check out, and your holiday cards will be delivered to your door in just a few days. Choose between printing options such as:
Paper stock
Envelopes
Folding (scored and flat, or scored and folded)
Quantity
Production turnaround and shipping speed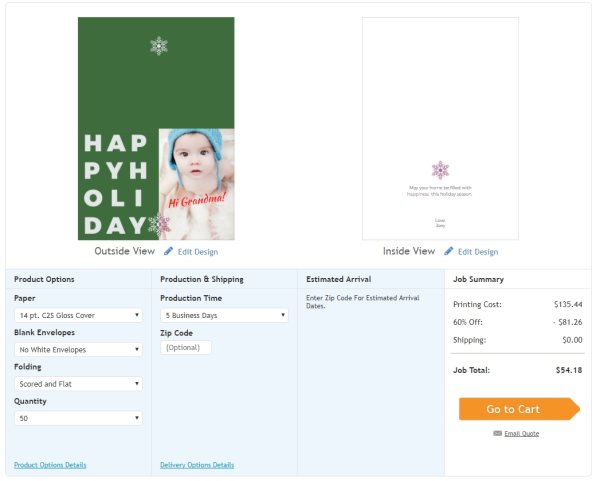 That's all there is to it! As you can see, you can create a professional-looking holiday card featuring your own photos and text in 30 minutes or less, all with an easy-to-use point-and-click interface. Best of all, when you're done designing you can print premium holiday cards at discount prices with PsPrint.
Ready to get started? Make your own holiday card now!