Want to make your own Valentine's Day greeting cards? Whether you want custom Valentine's Day cards to send to family and friends, branded greeting cards to send to business customers, or to feature your own designs to sell your own greeting cards for Valentine's Day, you'll find out how to do it below – even if you're not a graphic designer!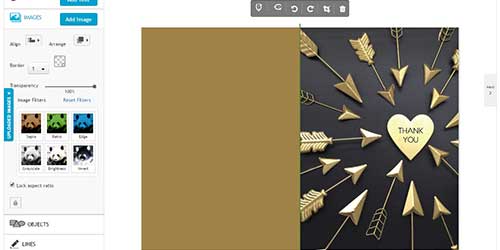 Create your own custom Valentine's Day cards online
You don't need to know anything about graphic design to make your own Valentine's Day cards. All you need is the PsPrint design template gallery and online design tool. Both are completely free!
Here's how it works:
STEP 1: Browse the Valentine's Day greeting card design template gallery and select your favorite design (each was crafted by a professional designer)
STEP 2: Choose the shape, size, and color scheme for your Valentine's Day card
STEP 3: Open your template in the online design tool, then use the intuitive point-and-click interface to:
Add your own custom text
Upload your own pictures and/or logos
Adjust the layout
Add shapes, icons, and more
Completely customize the card and make it your own
When you're done designing your custom Valentine's Day cards, you can download a free PDF to review it before you go to print. Approve your design, then select your printing options. Your Valentine's Day cards – featuring your custom design – will arrive in just a few days.
Want to avoid the hassle of stamping and mailing? You can even order matching envelopes and complete mailing services.
PsPrint's free Valentine's Day card design tool is the fastest, easiest, and cheapest way to print custom greeting cards that feature your own unique design. It's perfect for individuals and businesses that do not want to hire a graphic designer but still want a custom, unique, professional look for their Valentine's Day cards.
Upload your own design
If you are a graphic designer, you might be more familiar with Illustrator, Photoshop, or another design tool. PsPrint still makes it easy for you to print high-quality Valentine's Day cards at discount prices.
Start by uploading a free greeting card layout template in your selected shape and size. These templates are already print-ready: they're properly formatted for resolution and size, and they include helpful guidelines such as bleed lines, cut lines, and safe areas to speed up your workflow.
Once you've applied your design to your free template, save it and upload it to PsPrint. Then, simply select your printing and mailing options, and your Valentine's Day cards will be brought to life.
Get started with premium Valentine's Day card printing at discount prices today.