Though Marvel and DC Comics remain strongholds in the comic book industry, recent years have witnessed an increasing number of quality indie comics from publishers such as Image, Valiant, Monkeybrain, and others. The extreme popularity of comic-based theatrical and television productions means now is the time to enter this resurging industry. If you want to design your own comics, whether to pitch publishers, start your own company, or to create a special promotional book, you can use PsPrint to print your own comic books online. Here's how.
STEP 1: Write your comic book script
Most comic books start with a script, or at least an outline, that details the story to be told. Comic books scripts inform designers of the setting, action, and dialogue. Chris Oatley offers an excellent overview of the comic book script-writing process, including links to additional resources such as sample scripts you can study before you write your own comic.
Once your script is written, take time to revise it until it's perfect. It's much easier to fix scene order and dialogue now than later when you've already drawn and colored your comics.
STEP 2: Design your comic book
Use your script to guide you through the design process. You'll want to determine how many panels you'll use to tell the story on each page; consider mixing up the panel count to assist with story flow.
It's a good idea to download a free comic book layout template. These templates contain no design elements; instead, they're preformatted with the proper size and format for high-quality printing. A template takes the guesswork out of file setup.
Many comic books are created through a collaborative process in which a story is written by a writer, then drawn by a designer, colored by another designer, and dialogue hand-written by yet another designer. This strategy allows each collaborator to take advantage of their strengths to craft a visually compelling comic book with an engaging story; however, you can do everything from start to finish if you'd like.
No matter what production path you choose, when your comic book design is complete you can simply save it in your template as a PDF, then move on to the printing phase. Don't forget front and back cover designs, plus a copyright page!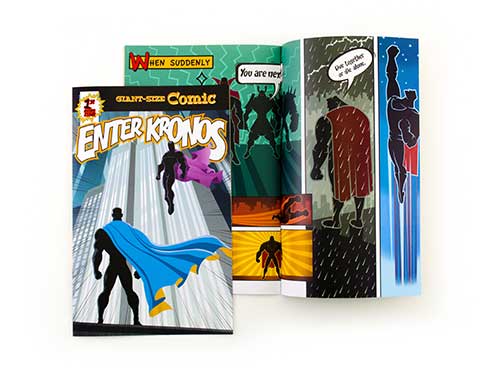 STEP 3: Print your comic book
You chose a size and page count when you selected your comic book template; now it's time to choose the rest of your printing options.
Cover paper stock
Your comic book cover can be the same as your interior page stock; or, you can opt for a thicker cover such as 100 lb. gloss cover, 13 pt. matte cover, 15 pt. velvet with soft-touch, or 13 pt. 100 percent recycled matte cover paper stock.
Interior paper stock
PsPrint offers both 70 lb. matte text or 80 lb. 100 percent recycled text paper stocks for your interior pages. Both are excellent choices for comic books, and it just depends how you want your comics to look and feel. If you're not sure what the difference is, you can order a free sample kit.
Interior color
Your comic book will most likely feature a full-cover cover, but you can print either full-color or black and white interior pages. Full-color comics are the most compelling, but black and white designs can help set the mood, make a statement, or simply save money.
Binding
Have your comic books saddle-stitched for easy reading. This is the standard industry binding.
Quantity
How many copies of your comic book will you print? How many can you distribute and sell?
Turnaround time
You can choose expedited print turnaround and shipping times if you need your comic books fast.
Proof
All projects come with a free electronic proof; however, it's a good idea to order a hardcopy proof to double-check your artwork before you invest in a full print run.
Once you've selected your printing options, all that's left to do is complete your order – PsPrint will take care of the rest! One final note: keep an eye out for discounts, as PsPrint often offers deals worth as much as 50 percent off comic book printing.
Ready to bring your amazing story to life? Print your own comic books online today!