You know cohesive branding helps customers identify your company across all communications, thereby making your brand more prominent, credible, and authoritative. You might also know you can use PsPrint's online design tool to easily apply your branding to hundreds of professionally-designed templates. But did you know you can also take advantage of matching set design templates to lend a powerful brand image to your business?
What are matching set design templates?
Matching set design templates are templates for different products that feature the same design elements, so you can universally apply your brand image to a wide variety of marketing tools: business cards, letterhead, envelopes, postcards, stickers, brochures, and more.
Coupled with PsPrint's online design tool, matching set design templates make it easier than ever to promote a powerful brand image without having to invest in graphic design services.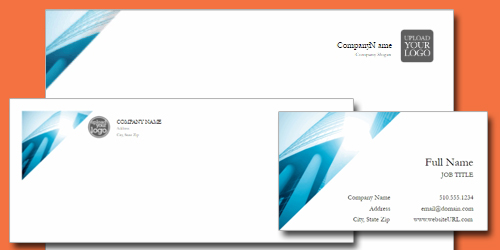 Matching set design templates are customizable
Like all of the free templates offered by PsPrint, matching set design templates are completely customizable to fit your brand. Once you select your matching set templates, you can:
Choose the color scheme

Upload your logo

Add your own custom text

Upload your unique images

Adjust the layout, add colors, and add shapes
The PsPrint online design tool walks you through the entire process, so you can simply point-and-click your way to a cohesive brand matched on all your marketing tools.
Matching set design templates save time and money
With the PsPrint online design tool, you can create matching marketing tools in minutes. Best of all, you don't need to incur the expense of a graphic designer to make your own matching marketing tools – and you'll still get a refined, professional look that powerfully represents your brand.
If you operate a budget-minded business, there's no better way to create attractive marketing materials featuring matching branding for direct-mail, point-of-sale, face-to-face, and other marketing channels.
If you want to grow your business and earn real recognition, you need a cohesive brand image. Apply your branding to all your marketing tools in no time with matching set design templates, then maximize your return on investment with high-quality, discount printing.