The best restaurateurs and graphic designers know that menus are more than simple listings of prepared dishes; rather, they're marketing pieces crafted to introduce customers to an experience and ultimately motivate larger orders (or at least higher spends). The following five menu design techniques, employed by some of the most popular chain restaurants in the nation, can help you do just that.
KFC's simple organization: 'Plus 1'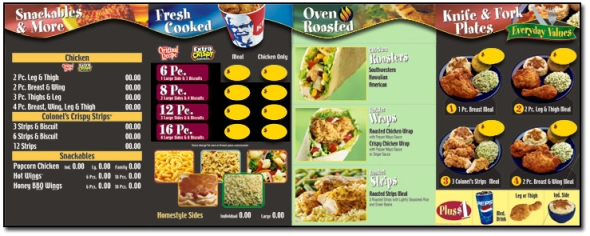 KFC has many potential combinations, but the restaurant chain knows that creating combos can spur sales of side items that might otherwise be ignored by a la carte orders. Listing every item in each combo can be cumbersome and confusing for diners, so this KFC menu depicts scintillating images of four popular combinations so it's easy for customers to order by number. But that's not all – take a closer look and you'll see the real genius in this design. Below the combo meals is the "Plus 1" panel – for an extra buck, you can add a drink, a leg or thigh, or an extra side to your meal. The dollar seems insignificant once you've decided on your combo, and I'm willing to bet that those dollars add up quickly for this chicken chain. TGI Friday asks: Do you want a drink with that?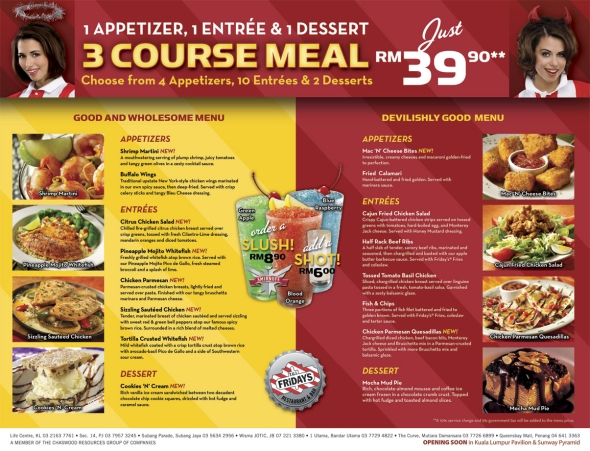 This entire TGI Friday promo menu design is excellent. It starts off with a three-course meal promotion, then lists the available choices to fulfill each course – divided into two columns for "good and wholesome" and "devilishly delicious." This setup appeals to both the weight-watching crowd and the "I don't diet at restaurants" crowd all in one pitch. Then, select images run down the page margins and showcase the dishes the restaurant wants you to try. Almost undoubtedly, these are the dishes with the best price point for the restaurant. That is to say, pineapple mojito whitefish is probably cheaper to make than tortilla-crusted whitefish (this isn't necessarily true, but drawing attention to high-profit dishes is certainly a menu technique). Finally, the customer is motivated by contrasting bright, colorful mixed drinks in the center of the fold. You can order a slush (ka-ching!) and even add a shot to it (ka-ching! ka-ching!) to complement your meal. You could order a Pepsi from the beverage panel, certainly, but the restaurant chain knows you're far more likely to order a high-profit beverage when presented alongside the meal deal. Buffalo Wild Wings knows how to show, not tell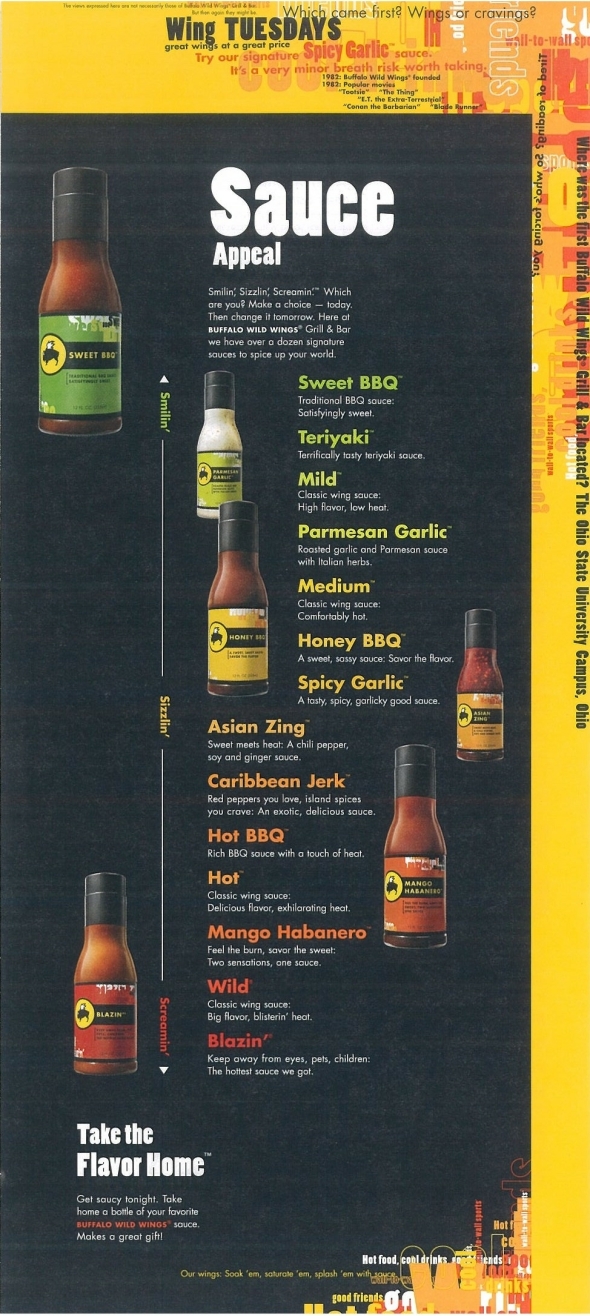 Buffalo Wild Wings, aka BW3 (or, in my neck of the woods, B-dub's), has a whopping 14 different types of sauces with which to glaze your chicken wings. Each has a different flavor and heat level, so the casual wing eater can get mild Sweet BBQ while the hardcore wing lover can opt for the intense Blazin' sauce. Still, that stacks up to a lot of options – and a lot of options can quickly become confusing. To combat confusion, the Buffalo Wild Wings menu has employed an ingenious device: each sauce listed along a sliding scale from "Smilin'" to "Sizzlin'" to "Screamin'" to help customers make the best individual sauce choices. This makes it easy to get what you want, to mix and match sauce styles for an all-around flavor experience, and ultimately to be satisfied with your meal. And, of course, satisfied customers are repeat customers (as well as your best word-of-mouth advertisers). To top it off, BW3 puts a note at the bottom of the page encouraging customers to purchase a bottle of their favorite sauce to take home or give as a gift. I don't know how many take-home bottles of sauce the chain sells, but I'm sure it is a great source of revenue and a tactic you could consider employing if you offer signature sauces at your restaurant. Godfather's Pizza simple salad promo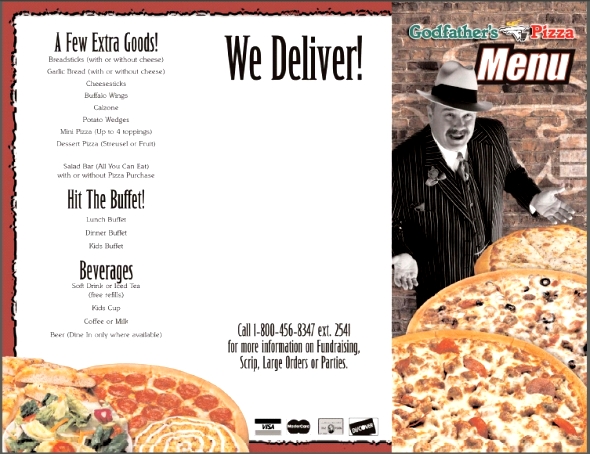 Show don't tell seems to be the name of the game for the Godfather's Pizza menu, which lists the different types of pizza and add-ons in a simple easy-to-read format bordered by food photos. Copy can go a long way toward making sales, sure, but sometimes an image is all it takes. Hence the salad depicted over the pizzas on the front and inside panels of this menu. Customers look at the images, say "Aha! I do want a salad!" and order accordingly. Like pizza, salads are (typically) inexpensive to prepare, so this is a high-profit item that Godfather's Pizza can bank on. Pizza Hut has you build your own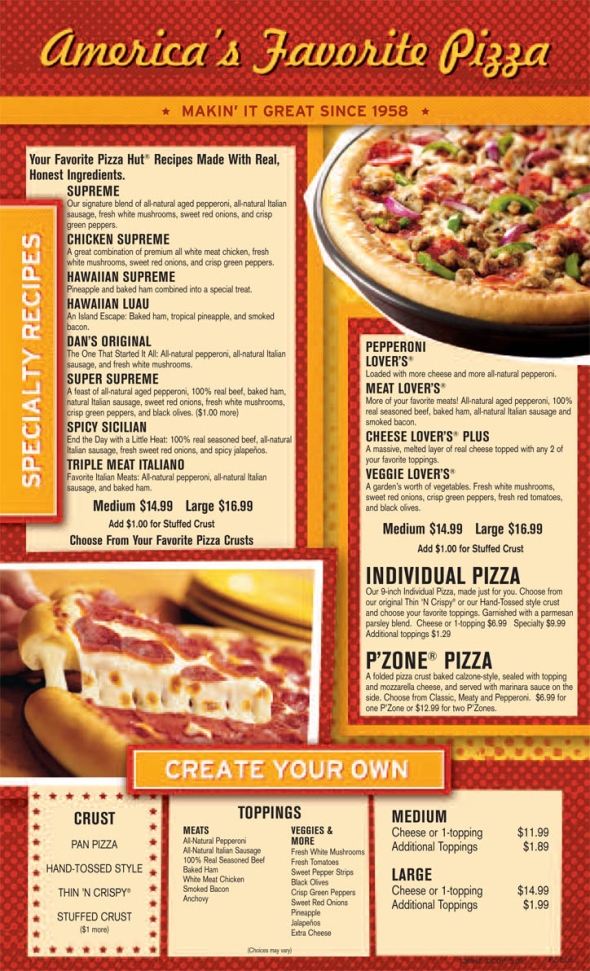 Pizza Hut might be famous for its "Lover's" menus, but it is the build-your-own menu that can really rack up the sales. Instead of building the price into a package, customers willingly add to their cost by selecting new items. You start with a crust, then move into the meat toppings. Notice how all the meat toppings except anchovies are modified by adjectives that invoke images of delicious quality foods. You can envision a Pizza Hut customer thinking to himself "Oh, I've gotta try baked ham and smoked bacon on my pepperoni and sausage pizza." Move on to the vegetable toppings and you get the same thing (fresh white mushrooms, crisp green peppers). All it takes is a single topping addition at $2 a topping for Pizza Hut to maximize its profits from your order, and the popular pizza chain does this by letting you build your own pizza from scratch.