Many graphic designers know Twitter is far more useful than learning about the latest celebrity split-up and what LeBron and Kobe are up to. Follow the right accounts, and you can get an outstanding graphic design education and find yourself privy to creative insights and unique opportunities just be logging in to your Twitter account.
Here are 31 must-follow Twitter accounts for graphic designers.
Tweets about branding and entrepreneurship, which is a useful topic for freelance designers.
Lano is an expert at having a conversation on Twitter, and following the links related to his communications is entertaining and educational.
This Belgian designer's blog is a veritable goldmine of outstanding links!

The Typekit co-founder always has interesting links and insight.
One of the web's best-known identity designers shares his wisdom via Twitter.
Cam's Twitter feed is a portal to UX design gems.

A photographer and graphic designer, follow Jon Phillips for excellent tweets related to how the two pair together.
If you love grid-based designs, this is the designer you absolutely must be following!
The self-proclaimed "Swiss designer gone New York."
Amusing and useful tweets from a "Pro Dribbbler."
Follow Erik and his logo design critiques for insight on branding.
The LogoMotives designer shares logo design insight. An absolute must-follow!

Great graphic design insight infused with real personality.
Like Wordpress? You'll love Woods!
Postscript5 designer and Mashable contributor Grace Smith is definitely worth following.
This well-versed freelance project manager offers a worldview of form and function.
Logos, logos, logos!
The self-proclaimed "digital agency for a digital world."
Award-winning, rule-breaking UK agency.

Inspirational links from the R27 designer.
Twitter done right. More than 85,000 followers can't be wrong!

Got freebies? Bittbox does!
Debbie's newsworthy tweets merge design and pop culture.
Graphic design insight and links to awesome design resources and examples.

If you've never been on Jacob's Just Creative website, I have to wonder where you've been living in the digital age.
This front-end developer specializes in developing custom WordPress themes.
More than 328,000 followers. Do you need another reason?

This Facebook project design manager could be the key to social media success.
A great tweeter to take a lunchbreak with!
Witty insight for graphic designers!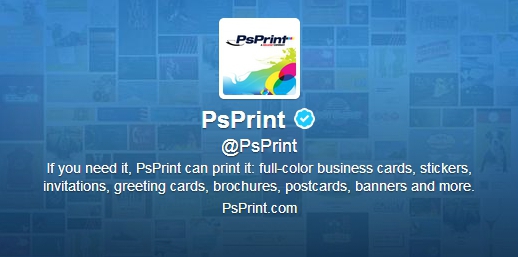 You didn't think we would leave us off the list, did you? We share all kinds of helpful tips, tricks and tutorials for graphic designers. Plus, we share our biggest sales, so you can get your designs printed for cheap!