If you're a graphic designer, you might have wondered whether it's OK to use free templates to form the basis of your designs. Judging by so many web posts, it seems there are two very different schools of thought regarding the matter, and nearly no one is on the fence: you're either for designing with free templates, or you're against it. What others think has no bearing on your own business, of course, and once the dust settles you're still left with the quandary: Is it OK to design with free templates?
What are free templates?
First and foremost, it's important to define what kind of templates we're talking about. PsPrint, for example, offers free layout guidelines for popular printed products that are set up in the proper size, resolution and color format, and also include helpful guides such as safety areas, cut lines, and bleed lines so you can properly prepare your artwork for professional printing. Such free templates contain no design elements, and therefore aren't included in this discussion. You have to make sure your artwork is print-ready, after all, and if you can do fast, cheap, and easy, you would be remiss to not take advantage of such free templates. Thus, in this case we're talking about templates with pre-developed designs. Brochures, business cards, flyers, websites, email, social media, advertisements, and other templates are often available for free (or even a cost, for premium versions). These templates can be opened in Photoshop, Illustrator and web design programs for customization purposes: images, fonts, layouts, colors and more. It's even possible to start with a free template and turn it into a unique design by the time you're finished tweaking it. Some design purists, however, feel as though using free templates not only represents a shortcut, it shortchanges clients who are paying you to develop a unique design. This can absolutely be the case, but it depends on each specific situation.
The client is always right
When it comes to the free template debate, everything boils down to the client – and the client is always right. Your job is to satisfy your client. While a custom design is always preferable, many clients – especially small businesses – don't have the budget for custom design work. Such clients are often happy to use an existing, customized template to shave design hours and their bills. Let's say you can develop a custom-designed website for $10,000, but you can deploy a template-based site with a few tweaks for $3,000. If your budget-minded client still ends up thrilled with what they paid for – and the price they paid for it – and  you're still able to convey your client's brand image (whether it's 100 percent unique or not), then why not use a free template? A refusal to do so means you're not doing your best to serve to your customer.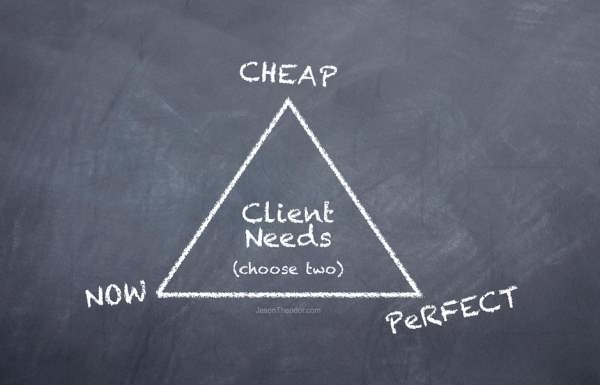 Photo credit Jason Theodor via Flickr Creative Commons license
You're running a business, after all
It's time to stop considering yourself a graphic designer and start thinking like a business. If you can work fewer hours, deliver a product your client loves, and still be paid a good fee, why should you care whether a free template was used? You shouldn't. Just be upfront with your client and show them the difference between custom design and template-based design so they can decide for themselves how they want to invest in their project. Of course, your own brand could suffer if you use free templates; if you fear that's the case, then only sell custom design work. You'll bid yourself out of a lot of jobs, but you'll be happy being able to apply your custom touch to every project you work on. To be clear, I prefer custom design work in every case; however, if a client can't afford custom design I'm happy to come up with solutions that help my clients get what they want and need at a price they can afford. That's good business, no matter how you look at it. What do you think? Is it OK to design with free templates?