If you're a do-it-yourself kind of entrepreneur you know you can save money by designing your own brochures; however, unless you're a talented designer, you also know lackluster brochures slapped together from Microsoft Word and other program templates are costing sales. They simply do not carry the professional appearance of a custom-designed brochure.
Fortunately, there's a way to get the best of both worlds: professional, custom brochure design for free: use PsPrint's online brochure maker – a simple way to design more powerful brochures.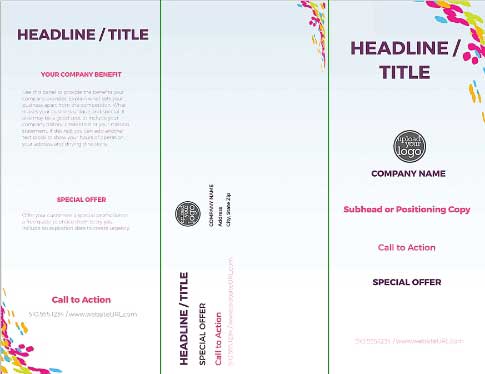 Here's how it works:
STEP 1: Choose your favorite brochure design template from the PsPrint design gallery. Each template was created by a professional designer, but is completely customizable.
STEP 2: Select a color scheme that matches your brand, then open your template in the free online design tool.
STEP 3: Follow the on-screen prompts to quickly and easily point-and-click your way to a custom brochure. The brochure creator lets you:
Add your own text
Upload your own logo and photos
Adjust colors, shapes, and brochure layout
Save your work and come back later to finish
Generate a free PDF to get team feedback before printing
When you're done designing, all that's left to do is select your printing options (quantity, paper stock, turnaround time, etc.) and check out. Your brochures will be professionally printed then shipped to your door in just a few days.
The brochure design gallery features templates for any industry: arts and entertainment, landscaping and construction, real estate, retail, education, and more. Plus, you can use a blank template to start from scratch and create your own design.
You can even choose your favorite fold style: trifold, Z-fold, half fold, right-angle half fold, gate fold, and even flat brochures.
There's no easier way to print powerful brochures that look amazing and feature your own custom branding. Get started right now!