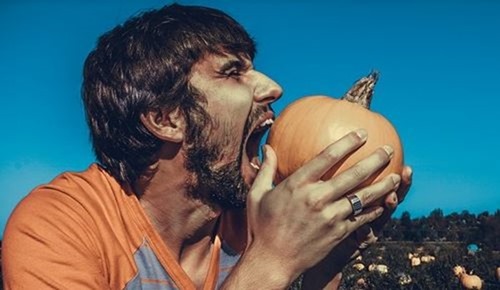 Thanksgiving is primetime for marketing, especially when you take into account the following Black Friday and Cyber Monday. Those days seem to be ruled by the "big boys," however, as mega-companies such as Walmart and Amazon dominate. How are small businesses supposed to compete against such stalwarts? With the following Thanksgiving design and marketing ideas.
Differentiate your business
What do you offer that Walmart doesn't? That's how you need to set your business apart with Thanksgiving design and marketing. Examples of common advantages to small businesses include:
niche products and services (for the perfect gift, not just a discount gift)
knowledgeable staff and ultra-helpful customer service
add-on services, such as gift-wrapping, that customers might not be able to get elsewhere
greater flexibility in hours, marketing, and extended sales periods
When you're planning your Thanksgiving marketing campaign, consider the advantages you have over big box stores, then develop marketing materials that promote that advantage. Chances are, you can't compete on price – but you can compete (and win) on another unique selling point.
Be different by design
Many American families spend time sifting through myriad newspaper flyer inserts after Thanksgiving dinner. Thus, it stands to reason your small business should print flyers to market your post-Thanksgiving sales. Don't make the mistake of trying to make your flyers look like the big box stores – again, the key is differentiation. Your Thanksgiving flyer design needs to stand out and get noticed, so work on crafting an attention-commanding design with unique images, fonts, color palettes, and text. You probably don't offer something for everyone, so focus on design that draws in your niche customer base – and let everyone else go to Walmart. Understand that some gifts are purchased simply because people are obligated to buy – think white elephant gift-giving – while others are purchased because people want to give their loved ones something that's personal and truly great. Play on the idea that you offer gifts people really want, and not just discounts for the sake of making sales. Use design to emphasize the point.
Market early and often
Why wait until Black Friday to unleash your best deals? As a small business, you can open your doors to shoppers all November. Encourage customers to avoid the hassle of long lines and sifting through online ad after online ad by shopping with you early. Start early and send postcards, flyers, or brochures via mail; or, print large format banners to blanket your local area with news of your month-long holiday sales. Offer an incentive to purchase early, such as free gift wrapping, to motivate purchases before the big box stores get in the game.
Print Thanksgiving booklets
Want to drum up sales for Thanksgiving alone? One great way is to print a relevant how-to booklet and distribute it to potential customers. A catering company, for example, might print a booklet on how to throw the perfect Thanksgiving dinner. The company could mention its services throughout the booklet, and even include a coupon for Thanksgiving Day catering. The goal: to make a connection with customers, establish brand loyalty, and enjoy follow-up sales.
Send greeting cards
Greeting cards are holiday traditions, and Thanksgiving presents the perfect opportunity to express your gratitude to your customers. Print greeting cards that feature your brand image, a photo of you and your family and/or staff, and a message that tells customers how much you appreciate their business. You can even include a special offer or coupon to help motivate sales; either way, your greeting card can make a statement to customers and positively impact your Thanksgiving and post-Thanksgiving sales. Customize your own Thanksgiving greeting card online.
Get customers involved
Another great way to promote your Thanksgiving sales is to engage customers early in the game. A grocery store might, for example, issue a call on Facebook for customers to share their favorite Thanksgiving recipes. Entrants could be registered for a sweepstakes with a cool prize from your company. After the deadline, a winner is picked and the grocery store publishes all the recipes on its website – and could even print favorite recipes (and showcase their contributors) in a booklet or on a flyer insert, complete with coupons to purchase the ingredients needed to make them. This is just one way a company might engage customers early, increase brand reach, and draw attention to Thanksgiving and holiday promotions. When it comes to Thanksgiving designing and marketing, it's practically impossible for small business to compete with big box store on price and overall selection; however, small businesses can offer great benefits and niche offerings the big boys cannot. Promote what you do best to a targeted audience, and your Thanksgiving marketing campaigns will succeed. Start planning your Thanksgiving marketing campaign now.