Ask any first-grader what color cherries are, and most will say "red." On one hand, they'd be right; humans tend to name colors by need perception and depth of knowledge, and for the average first-grader the color red is explanation enough for any number of hues (for more on cultural color names, including the always-interesting reasons why some cultures only have two colors – black and white – for all the hues, read here).
For the graphic designer, however, red is not descriptive enough; and finding the perfect hue of red (or any other color) can make or break a design. Let's take a look at cherries. Not only does any single cherry have a range of different hues, different cherry varieties tend to have specific and identifiable color traits.
There are many different types of cherries – bing, black, black stone, chelan, choke, lapins, maraschino, morello, napoleon, north star, Rainier, Spanish, sweetheart, and tieton, to name a few – and each has its own color traits. Let's examine three of the most popular varieties to see what color hues we can derive.
Bing Cherry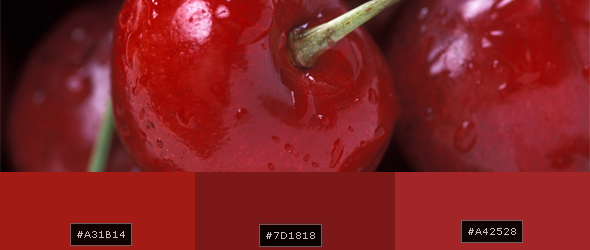 The bing cherry is renowned for its delicious flavor and is probably the variety of cherry you've seen used in many stock photos. From this photo of bing cherries I was able to pull a range of colors, including the above.
Black Cherry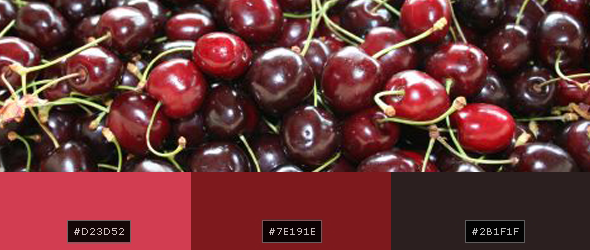 Despite their name, black cherries actually run the gamut in colors, from nearly light pink to dark, grapish-purple.
Maraschino Cherry
Maraschino cherries are named for their process and preparation, not their specific variety taxonomy, and are thus derived from Royal Ann, Rainier, or gold varieties. Their preparation for confections and other sweet applications renders these cherries a bright, almost-consistent red ...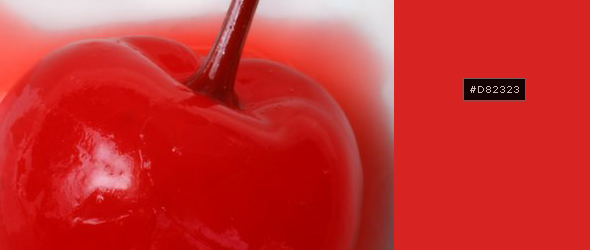 ... and green.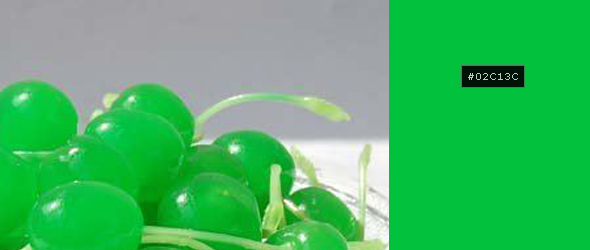 Perhaps this little exercise will help you think differently about color. When you have a full appreciation for the impact it has on mood, branding, and design effect, you can use it as a powerful tool to enhance your designs with style.