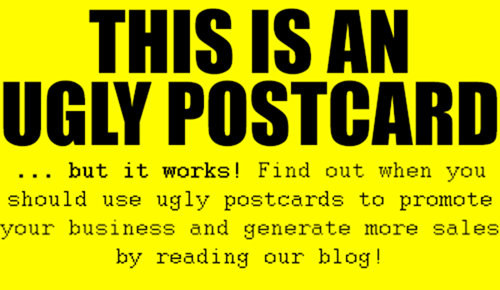 Ever get a marketing postcard that was nothing but big black letters on a yellow background? How about a postcard featuring Courier font and an obviously-stock photo? Ever wonder why companies would invest in such an ugly postcard marketing campaign?
The answer is simple: ugly postcards work. But why?
Think about the role design plays in postcard marketing. In order, postcard design must:
command attention
create desire
visually guide customers to your call to action
Notably absent from this list is "be beautiful." Postcards are not paintings. They are not art. They are marketing tools. Ugly postcards easily satisfy all three design purposes. They command attention because they're unique and different. Enormous black letters on a yellow background provides stark contrast, is easy to read, and efficiently delivers a marketing message. That marketing message creates desire, and if all that's left is a call to action customers' eyes will be drawn to it.
Should you print ugly postcards?
Ugly postcards aren't for everyone; it's important to consider your audience. For some industries, an ugly postcard might make companies look untrustworthy. In others – think museums, art galleries, painters, and interior decorators – an ugly postcard would not represent the product or service being sold. You don't want to risk damaging your brand image if your audience will reject ugly postcards. Scams might come to mind when you think about ugly postcards, especially weight loss-related "miracle pills" and similar direct mailers. However, there are legitimate reasons for printing ugly postcards. I once worked on a small town's school levy campaign in which we were told to make sure the marketing materials didn't look professional. This, despite the fact that a talented design firm volunteered for the campaign. The reason? We didn't want it to appear as though we had spent taxpayers' money on professional design – our audience would have considered that to be a waste of money at a time when we were asking them to agree to give the school system more of their paychecks. While I can't say definitively this was the difference between success and failure for what was a controversial campaign, I can say this: the levy passed. If you're not sure how your audience would respond to ugly postcards, you can try A/B testing to see how they perform. Create an ugly version of your best-performing postcard and send it  to a small segment of your mailing list. Send the original to an equally-sized segment. Compare response rate and ROI for each; if the ugly version outperforms your control, you should consider sending it to your larger list.
Ugly postcards are intentional
Keep in mind I'm not trying to minimize the impact design has on postcard marketing success; rather, I'm saying postcard design is critical to success. Ugly postcards should be intentionally designed that way by a professional designer who understands direct-mail marketing, not someone who haphazardly throws something together with cheap design software. What do you think? Do ugly postcards have a place in direct-mail marketing? Let us know in the comments! And, if you're ready to market your business – either with ugly or beautiful postcards – you can get discount postcard printing here.