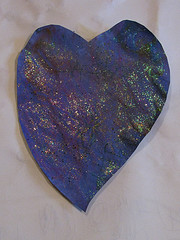 Are you looking for unique Mother's Day gift ideas that have a more personal touch than picked-over petunias at Wal-Mart? Get with family members to create a custom gift that your mom will love for years to come! All you need is a camera and maybe some photo editing software and your Mother's Day present will beat your siblings', hands-down. If you're not still trying to be Mom's favorite, then go in together for a great gift on the cheap!
Photo collage
Create a photo collage from your mom's favorite memories and print it as a poster to be framed or in a smaller gloss or matte sheet to be framed. Or, make your mom a star by designing a mock movie poster (think "Supermom") for her wall. If you're in the tradition of taking large family photos, a large-format poster will do more justice to detail than an 8-inch by 10-inch photo.
Custom stationery
If your mom likes to handwrite letters or print them out to send, you can create custom stationery or notepads. Make sure your designs have a touch of your mom's flair and personality, and toss in some matching envelopes so she can announce her coolness to everyone along the way.
Calendar
Everyone loves a calendar. Your mother will love hers even more when each month has a photo of a favorite memory, friend or family member.
CD/DVD
Make a CD of Mom's favorite songs or a DVD from camcorder clips you've compiled with video editing software, and make it extra special by designing a custom sleeve so she can proudly display it on the shelf when she's not watching it on the TV.
Booklet
Commemorate your mom's life and family with a keepsake booklet. Your booklet will include favorite photos, stories as told by family members and friends, a biography, and family history. And, as with all of these Mother's Day ideas, you can print anything you'd like that you know Mom will love!
Image use Creative Commons license via Flickr.