The logo for Super Bowl 50 is the first to eschew large Roman numerals in favor of plain digits, which is probably a good thing for many fans who are tired of deciphering long strings of letters to arrive at a simple number recognized by Americans for a game exclusively played in America.
That change, along with the decision to make Super Bowl logos from 2010 to the present silver representations of the Lombardi Trophy against a backdrop of whichever stadium hosts the NFL's biggest annual game begs the question: which is your favorite Super Bowl logo?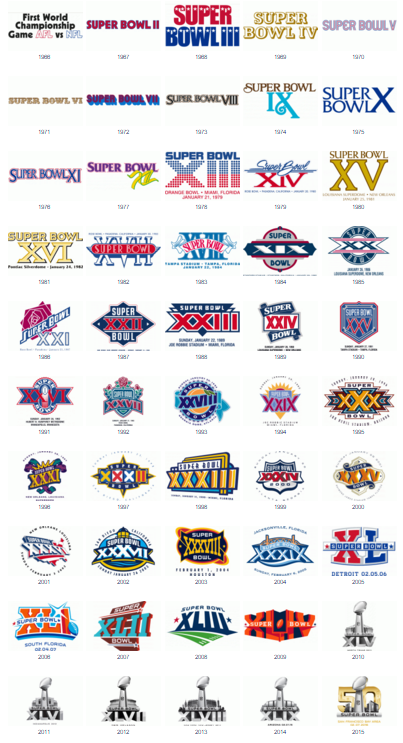 The above image is a screenshot taken from SportsLogos.net; visit the site to see each logo up close. Do you prefer the amateurish look of the first few Super Bowl logos? As simple as they are, they somehow add a gritty, unadorned feel that represents the tough spirit of the sport.
How about the stylish fonts employed in the mid-to-late 70's? Or the bold, regal Super Bowl logos of the 80's?
Then we have the color-infused Super Bowl logos of the 90's and 2000's, which added to the by-then traditional red, white, and blue with oranges, yellows, and even a touch of green.
And then finally, the hood ornaments of the 2010's. After the first, each is unoriginal yet somehow classy and distinct.
Personally, I like 1988's logo for Super Bowl XXIII (23), though 2006's logo for Super Bowl XLI (41) is a close second.
How about you? Which is your favorite Super Bowl logo, and why? Let us know in the comments!