Sometimes you need business cards and you need them fast. You could be pioneering a new startup and have a big networking opportunity fall into your lap. You could be attending an event and want to market a new service that isn't on your staple business cards. Or, you might just be out of business cards and on short time to get new ones.
You could print your own on your desktop printer, but clip art business card templates are cheesy and those perforated tear-off, thin-papered printing sheets you buy at Wal-Mart are even cheesier. The good news is you can design your own professional-looking business cards in just 15 minutes – without even a lick of design skill whatsoever. Here's how, in three steps.
1. Choose a professional business card template

Go to the PsPrint Marketplace Design Library and browse through hundreds of pre-designed business card templates. These templates were designed by professional graphic designers, so you will look as though you had your business cards professionally designed – but you'll get the template for free! You can browse the entire library, or search based on your industry, style of card and other parameters. Find the business card template that is right for you. You can do this in about five minutes.
2. Customize your business card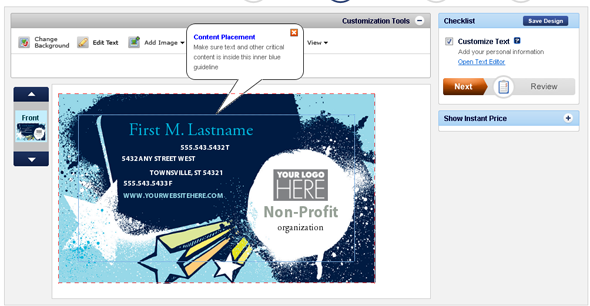 Add your name, title and contact information. You can also include a photo or other image as well as any additional information you'd like. This is the fun part, and it only takes another five minutes.
3. Print your business card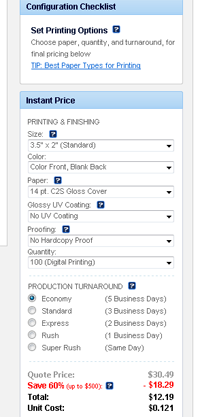 Once your business card design is complete, all you have to do is select your professional printing and finishing options, turnaround time and shipping preferences. In a few short days, your professional business cards will be delivered to your door, and you'll be ready to network – and land sales – like a pro!
There you have it, short and sweet, and in just 15 minutes you can have a professional business card you'll be proud to hand out.
About the Author:
| | |
| --- | --- |
| | Brian Morris serves in various capacities as a freelance writer, content developer and public relations specialist for growing small businesses. His previous roles included managing editor for a hometown newspaper and club bartender for a group of quasi-alcoholics. When he's not writing, he's usually counting lost follicles and wondering what he ever did with his time before his two children were born. |