Want to craft cutting-edge logo designs?  One powerful research tool for building visual brand representations is Emblemetric. I stumbled across this website, operated by logo design researcher James I Bowie, Ph.D., which offers insight into contemporary and historical brand design trends gleaned from data collected by the U.S. Patent and Trademark Office.  Each topic graphs data so you can quickly and easily understand trends over time and by industry.  This isn't to say you should do what everyone else is doing, but Emblemetric is a great tool for discovering up-and-coming styles you can emulate and serves as a window for dying design themes you probably want to avoid. For example, a recent post titled "The Color of Logos" demonstrates that red and yellow are declining in use for logo design, while green and orange are becoming more popular.  Moreover, the post reveals that red is the most popular color used in logos designed for the beverage and hospitality industries, while blue is the most popular color when it comes to insurance and medical companies.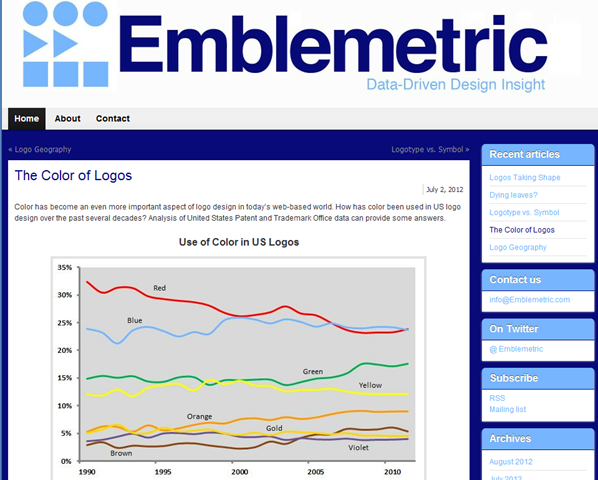 With information like this, a graphic designer can:
Design logos and brands with distinction by differentiating clients from competitors in color and style
Avoid logo themes that are overdone or falling out of favor
Capitalize on logo design styles that are being missed by client competitors
Predict what styles will soon be popular, and freshen a brand before the competition catches on
Make a name for oneself by designing unique and intuitive logos and brands
Best of all, Emblemetric is free to read, so you don't have to invest a single penny – only your reading time.  Success is often granted to those who are wiling to go the extra mile to understand their field, and Emblemetric is one such tool you can use to propel your clients ahead of their competitors, so you can leapfrog yours.