How powerful can the suggestion of a great poster design be?  Powerful enough to inspire a man to help bring a new life into the world.  The memory of a poster and its meaning is what helped Chorley, UK resident Mikey Edwards keep panic at bay while he helped his girlfriend, Sadie Forrest, deliver the couple's baby at home in their bathtub.
The couple had been to the hospital, but were told Forrest's labor wasn't far enough along for admission.  Shortly after returning home, however, Forrest went into labor and Edwards was tasked with delivering their son, Hugo, on the spot. He said a poster he had seen inspired him to keep his cool.
The poster in question?  A 1939 propaganda poster printed for the purpose of raising British morale in the event of a Nazi invasion.  The poster featured a crown icon at the top, with large white print below reading "Keep Calm and Carry On" on a red background.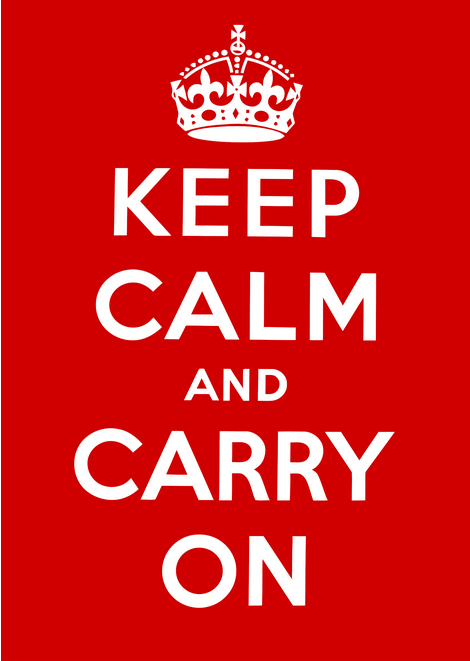 The poster itself wasn't widely circulated, though 4.5 million copies were printed; and was largely forgotten until 2000, when it was "rediscovered" and put into print by several private companies.  It's interesting to note that this poster, printed to inspire resistance against invasion, would transcend generations to inspire bravery under a different kind of fire more than 70 years later.
Keep calm and carry on.  Words of wisdom for most any stressful situation, and proof that a single poster can effect powerful influence that inspires great deeds.  The words are meaningful, but the design is also a compelling component of the poster:  the large text, authoritative crown icon, and attention-getting red background serve to make sure the poster is noticed and remembered at a glance.
Whether you design posters to influence public opinion or to motivate sales, this poster serves as an excellent case study for why you should consider how your design can make your work more meaningful and inspire its viewers to take action.  It's also an example of how simplicity sells.  Many believe a minimalist approach is a modern design technique, but minimalism was obviously employed seven decades ago.
How can you make your poster designs more powerful?