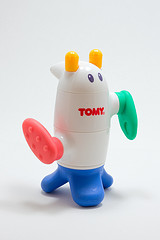 Birth announcements: The simple expression of proud parental joy over the birth of a child. Also a great way to get new stuff!
It seems everyone wants to chip in when there's a newborn. From the minute they receive the birth announcement, grandparents, aunts, uncles, cousins, friends and colleagues feel a desire – if not an obligation – to shower the baby (and parents) with gifts.
Thus, as a father of two, I've come up with three ways you can get more stuff by leveraging birth announcements to subtly tell potential gifters that yes, you are in need, and to direct them to buy what you want.
Tell your story – Most birth announcements simply state when the baby was born, who the proud parents are, siblings and perhaps list extended family members. But why stop there? Offer a brief background of the parents – how you met and how your love culminated in your new bundle of joy (leave out certain details, of course). This establishes your situation, which is especially useful if you're living out of a half-bedroom apartment above a crack house on the wrong side of the tracks.
Share your plans – You have a philosophy for how you're going to raise your child, and sharing this philosophy can earn huge brownie points with wealthy benefactors. Briefly explain how you'll give your baby a foundation upon which he or she can develop into a successful adult. Start with your plan to move away from the crack house.
Direct buyers to what you need/want – Take a small portion of your birth announcement to place a URL or two that lead to baby gift registries. Don't openly request items, but definitely mention where you're registered. And make sure a 50-inch HDTV for the baby isn't on the list.
If you don't have a gift registry (or already have everything you need from the baby shower), open a college fund for your baby and detail how contributions can be made to that fund. Trust me – you'll yield handsome contributions from even the unlikeliest donors when they know their money is going toward the education you shunned.
Be tactful in your approach; under no circumstances should you come across as needy or expectant. Instead, subtly nudge those who want to give in the right direction. And, of course, everything should be in the best interest of the baby ... Remember, the fewer diapers you have to buy the sooner you can get that HDTV!
Image use Creative Commons license via Flickr.