Back-to-school season is nearly here, and with it comes massive potential to increase sales for just about any business. Whether you print back-to-school catalogs, send postcards to promote your seasonal deals, or sell school supplies online, you can score high marks by learning from the following 10 back-to-school marketing statistics.
1. The back-to-school season represents an $83.6 billion industry – and it's growing
The National Retail Federation projects the 2017 back-to-school and back-to-college season to be worth $83.6 billion, representing a 10 percent increase from 2016's $75.8 billion in spending.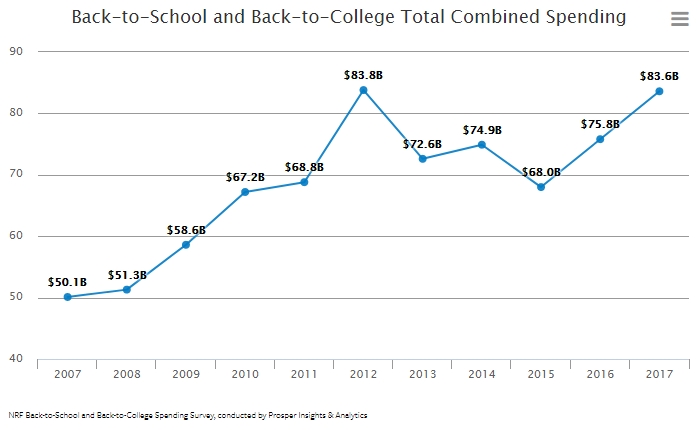 2. People who shop for back-to-school items before August spend 16% more
Deloitte found that shoppers who hit stores before August spend an average of $532 versus $458 for those who begin shipping in August or later. The takeaway? Start your back-to-school marketing campaigns early.
3. 30% of back-to-school shoppers say brand loyalty affects their purchasing decisions
A study by BizAdvisor found that brand loyalty is an important factor for 30 percent of buyers; however, it's not as important as product reviews and ratings, which affect purchasing decisions for 41 percent of buyers. And 49 percent say quality is more important than price.
4. 91% of parents buy back-to-school items in-store
Back-to-school is still primarily the domain of brick-and-mortar stores, especially when you consider that just 37 percent of parents buy on retail sites and 7 percent via mobile apps. That means back-to-school catalogs and direct-mail postcards are excellent marketing tools.
5. Dads spend nearly $200 more when they're in charge of back-to-school shopping
Moms spend an average of $512 on back-to-school shopping, but dads spend even more – an average of $700 (BizAdvisor). Perhaps your marketing campaigns should be targeting fathers?
6. Clothing accounts for 55% of back-to-school spending
Deloitte found that clothing commands the highest volume of sales, followed by:
School supplies (20%)
Computers and hardware (14%)
Electronic gadgets (9%)
7. Children influence up to 50% of parents' back-to-school purchasing decisions
Children play a much larger role in what parents buy than ever before – their influence has increased by 72 percent in just two years (Baltimore Sun). This is one reason brands want to get in front of children.
8. 44% of back-to-school shoppers will increase their spending on tax holidays
Several states offer tax holidays during back-to-school season, and 44 percent of shopper say they spend more on those days (Deloitte). This represents an opportunity to boost sales with special tax holiday deals.
9. 34% of shoppers don't begin shopping until at least 2 weeks before school starts
Last-minute deals can help you attract procrastinating back-to-school buyers, including the 5.8 percent who do not shop until after school starts (National Retail Federation).
10. 89% of back-to-school shoppers plan to take advantage of free shipping
If there is any must-have perk for catalogers and ecommerce, it's free shipping. Next in line are ship to store (44%) and expedited shipping (16%), according to the National Retail Federation.
Want to maximize profits for your back-to-school marketing campaigns? Get premium printing at discount prices.
Additional resources