Father's Day marketing can be a great way to boost June sales, provided you have a robust marketing strategy. In fact, Father's Day spending continues to grow. Consider these facts:
Retail isn't the only sector that can cash in on Father's Day. In fact, special outings and personal care services are among the most popular Father's Day gifts – so restaurants, golf courses, mechanics, barbers, spas, and many other types of business stand to benefit from an active Father's Day marketing push.
Increase your chances of success and increase summer business with the following 10 Father's Day marketing ideas that really work.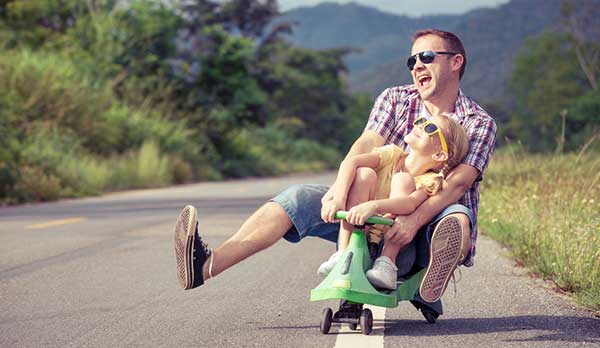 1. Create a Father's Day gift guide
Make it easy for customers to get their dad the perfect gift by printing a gift guide booklet. Highlight unique ideas that will make dads feel special, peppered with suggestions to purchase your products and services. You can send gift guides via direct mail, hand them out in your stores, or offer to mail them from your online marketing channels.
2. Make shopping with you ultra convenient
It's no secret people are busy, which means convenience can be a huge benefit to customers. Offer gift wrapping services, fast shipping, and add-on's such as Father's Day cards so people can buy it and forget it.
3. Market to the masses with banner printing
Vinyl banners are affordable marketing tools that are perfect for marketing your Father's Day sales to local customers. Print vinyl banners and place them in strategic locations to maximize your reach: along busy roads, near high-traffic intersections, and anywhere your customers are known to frequent.
4. Host an event
Events can provide outstanding bonding experiences for fathers and their children – and present profit potential for you. A golf course might host an annual father/son golf outing, for example, or a bar might host a "guy's night out" event just for fathers and sons. Market your event with direct-mail postcard printing and strategically distributed flyers.
5. Send postcard coupons
A quick and easy – yet highly-effective – way to promote your Father's Day sales is to send direct-mail postcard coupons to a targeted mailing list. This is a perfect idea for retail gift shops that want to market their Father's Day specials and restaurants that offer deals such as "fathers-eat-free with purchase of two entrées." Consider EDDM postcard printing for an affordable way to target a local audience, and make your mailers stand out with ultra postcard printing.
6. Market with window clings
Window clings can be a great way to motivate impulse purchases, especially if you're located in a strip mall or downtown shopping district. Print window clings that promote your Father's Day deals with large fonts and bright colors to command attention for your storefront.
7. Don't forget grandpa
People don't just buy for their dads on Father's Day: they also buy gifts for their grandfathers, brothers, friends and other special men in their lives. You can take a unique approach to Father's Day marketing by focusing on men other than dads. What do you sell that's perfectly suited for grandfathers? Let people know about it!
8. Let kids be in charge
Kids love to do their own Father's Day shopping, but many gifts are priced outside their price ranges. You can get kids (and their moms) in your store with a kids shopping day promotion. Set up a section of your store with ultra-affordable Father's Day gifts the kids can buy, and place more expensive items for moms to browse nearby.
9. Partner with others
You can work with non-competing businesses that share the same audience to create awesome Father's Day promotions in which everyone wins: the businesses share the marketing investment, each business profits from every sale, and customers get a discount on the package. One example: a car detailer might partner with a mechanic to offer a "clean 'n tune-up" Father's Day package.
10. Create Father's Day gift basket bundles
You can give customers super-cool themed gift basket bundles for Father's Day and simultaneously increase your profits when you bundle bestselling items with slow-moving merchandise. It's an easy way to make shopping convenient with a basket of gifts dads will love, at a discount for customers, and clear your shelves to make way for new inventory.
Ready to make this Father's Day your most profitable yet? Maximize your return on investment with discount print marketing!