Mother's Day is a prime opportunity to cash with a strategic marketing plan design to boost sales, as evidenced by these stats from the National Retail Federation:
Americans spend more than $23 billion on Mother's Day
Though nearly 64% of people buy Mother's Day gifts for their moms, many buy gifts for other special women in their lives. For example, more than 10% buy gifts for their daughters and 7% buy gifts for friends
Greeting cards top the list of Mother's Day purchases at nearly 78%, followed by flowers, special outings, and gift cards
Of course, you don't need to be in the retail sector to make money on Mother's Day – all you need is a sound marketing strategy that makes a strong case for why you offer the perfect Mother's Day gift. Get started with the following 10 Mother's Day marketing ideas that really work.
1. Offer convenience
People are busy these days, so convenience can be a major factor when they decide where to buy Mother's Day gifts. You can promote gift wrapping services, add-on Mother's Day cards, and rush shipping services – all of which offer an attractive level of convenience, not to mention additional profit potential.
2. Create a Mother's Day gift guide
Help customers find the perfect Mother's Day gift by printing a gift guide booklet. Use it to showcase unique ideas that will make moms feel special – all derived from your product collection, of course. Print booklets as gift guides, then send to targeted direct-mail lists, distribute in-store, or offer to send them out via online channels.
3. Partner with others
Make your Mother's Day offerings more attractive by partnering with non-competing businesses to create special packages. For example, a spa might partner with a hairstylist and a beauty product retailer to create the perfect "Mom's Day Off" package. All three companies could split marketing costs, allowing each to triple its reach without increasing marketing investment.
PsPrint design template Appreciated
4. Market with banners
Vinyl banners are excellent marketing tools for local businesses that want to promote their Mother's Day sales to the masses. Place banners along busy roads and intersections, outside your storefront, near your competitors' stores, and in other targeted locations.
5. Hold a contest
Develop a fun contest that highlights all the great things moms do. For example, a spa might run a "Why Your Mom Is the Best" contest, which asks customers to write in for a chance to win a prize. Promote the contest with direct-mail postcards, banners, and flyer printing, and post the best entries on social media to draw attention to your store and its Mother's Day promotions.
6. Send postcard coupons
Direct-mail postcards that include coupons or coupon codes are perfect Mother's Day marketing tools. Simply develop a compelling special offer, then print postcards to send to targeted lists or via EDDM (Every Door Direct Mail), if you're targeting local customers. Make yours stand out with ultra postcard printing, which features an attractive band of edge color.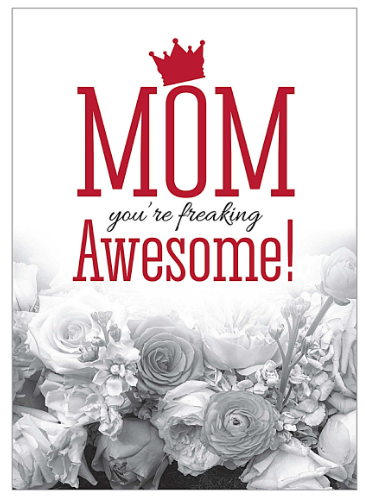 PsPrint design template Roses For Mom
7. Create Mother's Day gift basket bundles
Make it easy for people to buy for their moms with special Mother's Day gift basket bundles. Get more mileage out of them by combining best sellers with accessories as well as slower-moving merchandise. You can create gift baskets that follow themes suited to different types of moms, then promote them in every marketing channel you use.
8. Promote with window clings
If you have a storefront in a location that gets a lot of foot traffic, window clings can turn window shoppers into customers. Print window clings designed to command attention for your Mother's Day sales to get passers-by into your shop.
9. Promote products for the other women people buy for
As mentioned, moms aren't the only women people buy for. Consider promoting gifts for grandmothers, daughters, friends and others on your customers' shopping lists. This can be a great way to stand out from competitors; and, you can still market your products for mothers once you have your customers' attentions.
10. Host a "kids buy" event
Kids love to buy their own gifts for their moms, but many products cost more than they can spend. Create a special section in your store with low-priced items many kids can afford, then promote your "kids buy" event to dads. Once they're in your store, you can promote more expensive items to dads while the kids shop.
Ready to make this Mother's Day your most profitable yet? Maximize your return on investment with discount print marketing services!