One of the best New Year's resolutions for small businesses is to try something new, which is why we're excited to have rolled out lots of new marketing tools over the past few months. If they're new to us, they might be new to you – so you can grow your business with the following ten new print marketing tools to try in 2017.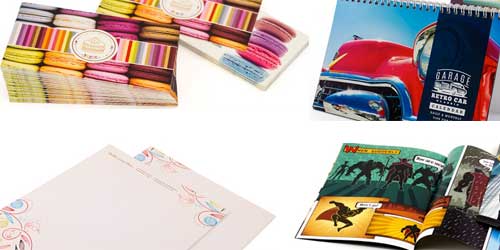 1. Linen business cards
Lend the allure of luxury with linen business cards, featuring a smooth and soft surface that's perfect for adding a hint of sophistication to your brand. Two types of linen business card stock are available; brilliant white is great for modern, cutting-edge companies while natural white has traditional appeal.
2. Desk calendars
Desk calendars put your brand in front of customers every minute of every day. They're great for establishing relevancy with your audience. If your customers sit at their desks all day, desk calendars can prove to be powerful marketing tools that not only brand your company 365 days of the year, but also lead to direct sales.
3. Roll stickers
Ultra-versatile, cost-effective roll stickers can help you brand and promote your business without breaking the bank. Great for marketing on any surface, product branding, event marketing, envelope seals, return address labels, service number decals, package sealers, and more!
If your company has a green agenda, it can be difficult to balance an environmentally-friendly approach to marketing that doesn't jeopardize your sales with poor-quality marketing materials. Our 100% recycled brochures are of premium quality – they look and feel just as great as non-eco-friendly brochures – but they're comprised of 100% recycled paper so you can save the environment without risking your company.
5. Online design tool
Snag a free professionally-designed template and use PsPrint's revamped online design tool to make your own business cards, brochures, greeting cards, invitations, holiday cards, postcards, stickers, and more. It's fun, fast, easy, and free!
6. Premium menus
Enhance the customer experience and make a powerful brand statement with premium menus, printed on the finest paper stocks in the industry. You can print premium menus on creamy white linen, brilliant white linen, or light brown kraft paper. Premium menus are great for restaurants, bars, night clubs, diners, wineries, breweries, pubs, day spas, salons, and more – plus they make the perfect addition to special events such as weddings and corporate events.
Give your brochures a luxury makeover with linen paper stock. The soft, smooth feel appeals to discerning customers and helps set your brand apart from competitors. No matter what industry you're in, brochures can serve as powerful sales and marketing tools. Make yours count with unique paper that commands attention for your company.
8. Coloring books
Do you run a charity organization or champion a cause that caters to kids? If so, custom coloring books can help you raise funds for your organization, promote your plight, and increase awareness for your cause.
We've added two new eco-friendly paper stocks that it easy to go green with booklet printing: both 13-point and 80-lb. eco-friendly varieties are comprised of 100% post-consumer waste so you can offer a comprehensive overview without harming a single tree.
10. Linen stationery
If you send sales letters, personal notes, or follow-up thank-you's, print your letterhead on linen stationery for an elegant, sophisticated look and feel. Linen stationery is perfect for brands that want to promote a luxury experience and discerning customers who demand more out of those they do business with.
Ready to propel your business to the next level? Do it with premium-quality discount printing!