Mother's Day represents a $21.2 billion industry, a whopping figure that should have every business salivating to get its piece of the pie. With so much spent on the holiday, it's up to you figure out how to make your business relevant so you can increase Mother's Day sales. After all, moms might like flowers and greeting cards, but they need to have their tires rotated, too. No matter what business you're in, you can boost May sales with the following 10 powerful Mother's Day marketing tools.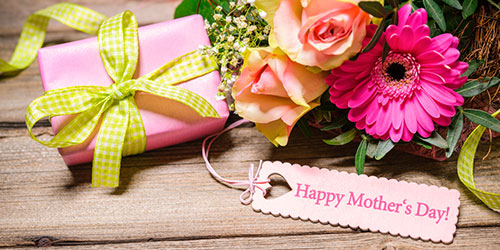 1. Direct-mail catalogs
Send special Mother's Day edition catalogs to your best customers as well as those who match their demographics (or have moms who match them). Create a stunning catalog that showcases your products in use. Make it easy for people to imagine their moms enjoying your products, and they'll buy.
2. Postcards
If a full catalog isn't in the budget, you can instead send a direct-mail postcard that highlights your feature products and prompts customers to visit you in-store or on the web to see your entire selection. Add in a time-limited coupon code or a voucher for free gift wrapping to help track response rates and motivate quick sales.
3. Banners
Want to reach hundreds or even thousands of people from a single marketing piece? You can't go wrong with vinyl banners, which can be placed in prominent areas to maximize your exposure for minimal investment.
4. Brochures and booklets
Some people like to give their mothers experiences instead of physical gifts. Spa days, hair treatments, even weekend trips qualify. If you can offer these types of gifts, a brochure or booklet might be best to help you sell them for Mother's Day. Brochures and booklets allow you to offer additional details about your offering, plus offer large photos and other information that will help close the sale.
5. Stickers
Print special stickers to draw attention to your Mother's Day discounts. This is a great strategy for retail shops, but can also be applied creatively by any business. A day spa might print flower floor stickers and tell guests to follow the flowers to receive a discount offer for a "Mother's Day at the Spa" deal.
6. Hang tags
Like stickers, hang tags can be used to influence impulse purchases if you place them on your special sale Mother's Day products. They can also be used to bundle items for Mother's Day – ideally, slow-moving merchandise with popular items that let you sell both products at once. Hang tags offer double-sided printing so you simultaneously brand and offer product details on a single piece.
7. Window clings
If you're located in an area with heavy foot traffic, print window clings that promote your Mother's Day specials to motivate impulse purchases and "steal" business from nearby competitors. Make your window clings large, easy to read, and compelling to get the biggest bang for your marketing buck.
8. Table tents
Table tents make excellent Mother's Day marketing tools for restaurants, especially those that offer Mother's Day specials, Mother's Day gift cards, and take-home Mother's Day pies and other desserts.
9. Door hangers
The weather turns warm in May, which makes door hanger marketing a great way to get the word out about your Mother's Day specials. Door hangers have all the power of postcard marketing, yet are even more prominent since they're placed directly on doorknobs.
10. Flyers
Post them on community bulletin boards, stack them on counter tops in prominent areas, or hand them out to passers-by. No matter how you distribute them, flyers are powerful marketing tools that will help get your Mother's Day sales, events, and specials noticed. Add a coupon or coupon code to track your return on investment.
Give your Mother's Day marketing campaign the boost it needs with discount printing services today.