If you operate a contracting company, you know new business is your lifeline, which means you must continually market your contracting services to attract new customers and grow your business. Whether you're a carpenter, home builder, remodeler, landscaper, painter, plumber, HVAC installer or other contractor, you can take win more contracts with the following 10 print marketing tools for contractors that land new business.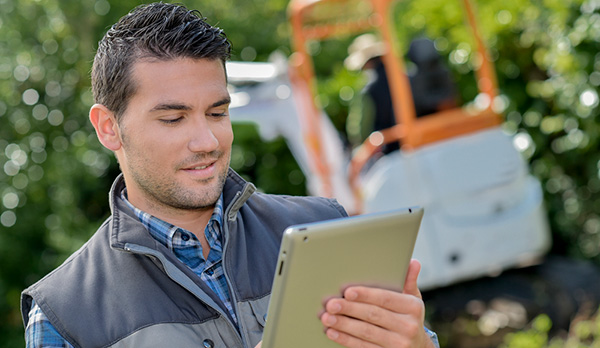 1. Yard signs
Show off your best work with yard sign printing. Yard signs are cheap to print and easy to implement: Simply place them in front of every property you work on. Neighbors and passers-by who marvel at your work naturally want to know who is responsible and yard signs can motivate them to give you a call to quote their projects.
2. Door hangers
Door hangers work great with yard signs to promote your work neighborhood-wide. Print door hangers to keep in your work vehicle, then place them on doors adjacent to the properties you've just finished working on. Your yard signs will showcase your work on neighboring homes, and your door hangers can deliver a time-limited offer to add an incentive to call you now. It's no secret people want to keep up with the Joneses!

Door hanger designed by Natalie Branche for N&N Landscaping in New Orleans
3. Flyers
You can print business flyers and distribute them on community bulletin boards, in store lobbies and affix them to windows. Flyers can also be placed under windshield wipers (where allowed), handed out directly to potential customers, placed in information boxes, and sent via direct mail to a targeted mailing list of likely customers.
4. Direct-mail postcards
Speaking of direct mail, a targeted direct-mail marketing campaign that delivers an exceptional time-limited offer is a terrific way to promote your contracting business. Develop a mailing list comprised of people who match your best customer demographics, create an offer they can't refuse, and then send your postcards to motivate response. Consider printing extra-large postcards or ultra postcards, which feature an attractive band of edge color, to command attention at the mailbox.
5. Banners
Print banners to place in strategic locations to maximize your reach for minimal investment. Busy roadways and intersections, home and garden shows, community festivals, and targeted areas your audience will notice them are good places for banner distribution.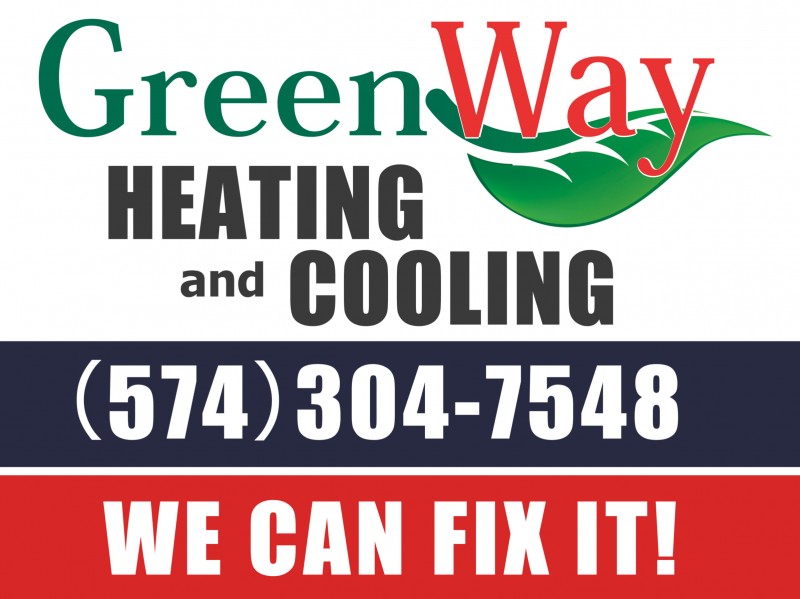 Yard sign for Greenway Heating & Cooling designed by Ethel Coffman
6. Car door magnets
Market your business everywhere you go with car door magnet printing. Place magnets that promote your brand and feature your contact information on every vehicle in your fleet. See if you can get employees, friends and family members to sport your car door magnets on their vehicles. The more omnipresent your brand, the more likely customers are to call when they need your help.
7. Brochures
Brochures are tried-and-true marketing tools you can use to provide a detailed overview of the products and services you offer. Brochures are flexible so they can be distributed in a variety of ways: leave-behinds after sales meetings, direct mail, on counter spaces and even packaged with relevant products your audience might purchase. Print brochures that feature plenty of large photos – especially before-and-after photos – to showcase why you're the right contractor for the job.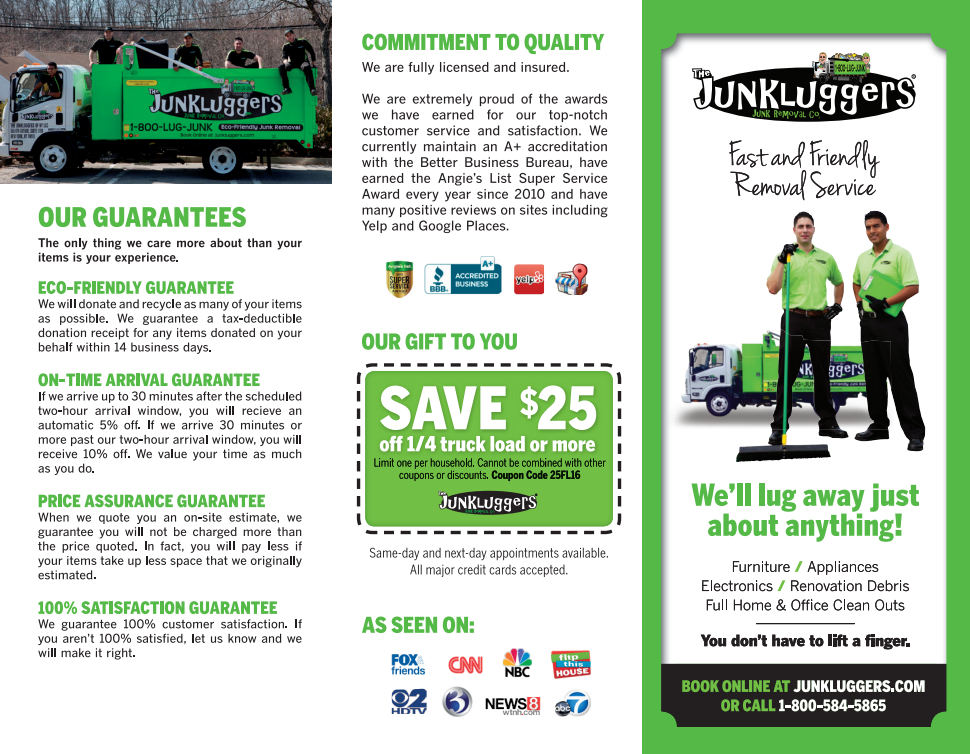 Brochure for Junkluggers
8. Booklets
Take your brochures to the next level with booklet printing. Not only do booklets offer more real estate to feature large, full-color images, but they can also be turned into helpful guides your audience wants. A landscaper, for example, might print booklets packed with landscaping inspiration, tips and tricks – peppered with promotions for their services, of course!
9. Refrigerator magnets
Fridge magnets are useful to customers so you can count on your contracting company getting exposure every time your audience goes to the fridge for a glass of milk. Perfect for branding your contracting business, refrigerator magnet printing also lets you promote seasonal specials and discounts that motivate response.
10. Calendars
Print calendars that feature your most inspiring work, which can serve as inspiration for your audience's projects. Each month, you can include exclusive discounts, offers, and add-ons. Include a coupon code to track your response rate. Like fridge magnets, calendars are useful. If your calendar theme is attractive, your audience will be proud to put them on display – and you'll get exposure for your contracting business 365 days a year!
Ready to leverage the power of print marketing to promote your contracting business? Maximize your return on investment with discount printing services today!