Newspaper flyer inserts aren't the only tools that are great for promoting your Thanksgiving, Black Friday, and Cyber Monday sales. In fact, you can get a leg up on the competition by identifying different ways to reach your customers. To that end, the following lists ten Thanksgiving marketing tools you'll be thankful for.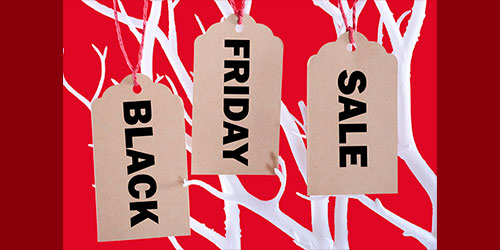 1. Banners
Banners are powerful marketing tools that can drive traffic to your local restaurant, retail store, or website. They're also good for marketing service-based businesses, too.
Place banners in prominent such as:
Alongside busy roadways and intersections
Near shopping districts
Festivals and events you sponsor
2. Car door magnets
Promote your company and brand everywhere you go with car door magnets. Use car door magnets to:
Increase brand awareness
Create desire and motivate sales
Keep your message short yet compelling to make it easy to understand when viewed from sidewalks and highways.
3. Wall graphics
Want to make a big impression with a single marketing tool? A well-placed wall graphic is a great way to command attention for your Thanksgiving, Black Friday, or Cyber Monday sales. Place wall graphics:
On the sides of prominent buildings
Inside mall commons areas
In your own store to draw attention to sales
You might need to get permission from property owners (or even pay a fee) before placing your wall graphics. If so, make sure you have exclusive rights so your competitors can't match your reach.
4. Booklets
Booklets are among the most powerful Thanksgiving marketing tools. Print booklets that add value to your customers' lives, help them accomplish goals, and establish credibility and authority for your brand. Ideas include:
How to host the perfect Thanksgiving/Christmas party
How to cook a perfect turkey
How to find the perfect gift for everyone on your list
Be sure to pepper your content with references to your own products and services to inspire sales.
5. Postcards
Direct-mail postcards let you reach a highly-targeted customer base for minimal investment. You can send postcards to a demographically-targeted or geographically-targeted mailing list, such as with EDDM (Every Door Direct Mailing) for local customers.
Some tips for increasing your visibility include:
Print extra-large postcards to stand out from other mailers
Print triple-thick, color-banded ultra postcards

to convey a sense of brand strength and command attention

Print folded postcards to increase your real estate and showcase more products
Make your own postcards and save money with PsPrint's free online postcard design tool!
6. Hang tags
Hang tag printing can help you boost overall revenues if you operate a retail location. Hang tags are perfect for motivating impulse purchases. Use them to:
Draw attention to special sales
Convey product features and benefits
Create desire via branding
Cosider printing large hang tags that turn heads all over your store.
7. Holiday cards
Thanksgiving is a great time to send out custom holiday cards featuring your brand. Personalize your holiday card design using PsPrint's free tools and these tips:
Take time to add a handwritten note to your best customers
Include a photo of your staff or family
Design your own holiday card to differentiate yours from competitors'
Remember, holiday cards are part of your customer appreciation and relationship-building strategy. Don't use them to push sales; instead, foster long-term loyalty that pays huge dividends over time.
8. Table tents
If you operate a restaurant you can boost the average ticket price with table tents that promote your Thanksgiving specials: entrees, desserts, unique drinks, and special take-homes such as holiday pies.
If you don't operate a restaurant, you can still partner with one to take advantage of table tent marketing. You can offer to pay for table tent printing in which your promotion is featured on one side and the restaurant's on the other. The restaurant will then agree to make sure the table tents are always placed on every table. You can also come up with a joint promotion that's featured on both sides. Get creative!
9. Stickers
Stickers can be used to market your business just about anywhere:
On packaging
On retail store floors (leading customers to special sales)
On windows, walls, and doors
On automobiles (think window clings

)

In unique, attention-getting areas (with permission) – ceilings, stairwells, restroom mirrors and stalls, etc.
Brainstorm ways you can use stickers to make your brand front-and-center; and consider printing stickers that add an element of humor when they "interact" with the area they're placed.
10. Calendars
Thanksgiving is a great time to distribute calendars for year-round marketing your customers will appreciate. Print calendars featuring:
Themes your customers love and will be proud to show off
Your brand on every photo
Seasonal specials to drive year-round sales
Ready to boost sales this Thanksgiving? Do it for less with discount printing services!