Calendar printing is a powerful way to connect with customers year-round, but if you've never engaged in calendar marketing (or if you have, with poor results) it's a good idea to understand how calendars can help you grow your business as well as how to maximize your return on investment. To those ends, the following lists ten things you need to know about calendar marketing.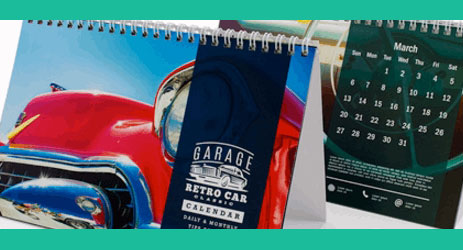 1. Calendars offer outstanding exposure
The great thing about calendars is they offer excellent value for your customers. They are useful, and so they are used – often daily. Few other marketing tools, print or digital, can do that.
2. Calendars are great for branding
Place your logo, company story, and other promotion information on every page of your calendar to promote your brand. This is how calendars work to make sure your company is top-of-mind when customers are ready to buy what you sell.
3. Calendars can be direct-sales tools
Many businesses overlook how calendars can be leveraged as direct-sales tools, but you can promote sales year-round with monthly deals and coupon codes that allow you to measure response.
4. You can get free calendar templates
Creating your calendar design isn't difficult when you download free calendar templates. These templates make it easy to create print-ready files with minimal setup in your favorite graphic design software.
5. You can get free calendar designs
Public domain images and properly-licensed Creative Commons photos offer free artwork for your calendars. Download photos that match your theme and place them on free calendar templates for quick, easy, attractive designs.
6. You need a compelling theme
Speaking of calendar themes, yours should be relevant to your customers and your business. Your calendars should feature artwork your customers will be proud to showcase on their walls and desks, and also naturally segue to your product or service offering.
7. You can distribute calendars early
Print calendars that start in December of this year and go through December of next year to encourage customers to hang your calendars early – and beat your competitors to the punch.
8. You have multiple distribution options
Calendars can be handed out directly to customers, placed in prominent locations such as retail countertops and point-of-sale racks, and sent to targeted audiences via direct-mail. You can even let customers request catalogs from your website or social media pages.
9. Calendars are cheaper than you think
In fact, when you consider the cost-per-view, per-person, per-day, calendars are among the cheapest marketing tools you can print.
10. You can get great discounts on calendar printing
You can print calendars even cheaper when you take advantage of discount calendar printing. It's a great way to maximize your ROI.
If you're seeking a way to reach customers daily, cost-effective calendar printing is a perfect option. Print premium, discounted calendars today!