It's no secret that flyer printing can be a powerful way to promote your event, but when everyone is printing event flyers you need to ensure yours stand out to boost attendance. Event awareness is paramount, evidenced by the fact that 30 percent of people report they would buy tickets if they knew an event was in their area, and one in three people say they are thinking about going to an event but are unsure which to attend.  Make sure they choose your event with the following 10 tips for awesome event flyer marketing.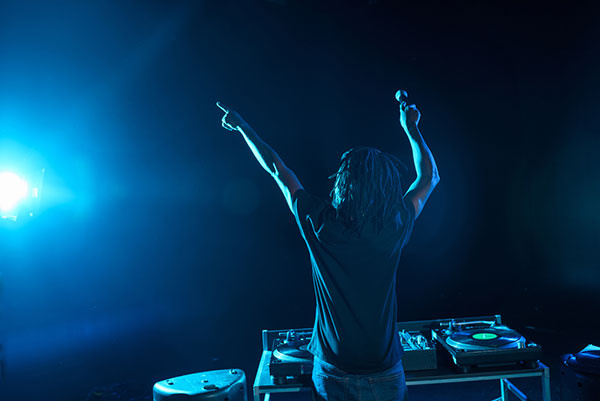 1. Highlight the main attraction
Your flyer design should highlight your event's main attraction. For example, if you're hosting a festival and the music headliner is the main attraction, their press picture should dominate your design. If you're hosting an established event, such as a long-standing music festival, perhaps your event name or logo is the main attraction.
If you're struggling to identify your main attraction, ask yourself: what is the single most attractive part of our event? Why would most people want to attend? The answers will help you discover your main attraction so you can effectively promote it.
2. Adhere to information hierarchy
Once you've identified the main attraction, you should devote size and space according to your information hierarchy: what people need to know, in order of greatest to least importance. For example:
Main attraction
Date, time, location
Secondary attractions
If you're printing business event flyers, you might include the benefits of attending; for example, learning a new skill, or networking with top contacts.
3. Go big
Incorporate large, full-color photos and typography into your flyer design to make it stand out. Print extra large flyers so they dominate bulletin boards and command more attention than competing events. For example, 11-inch by 17-inch flyers will be more noticeable than 8.5-inch by 11-inch flyers.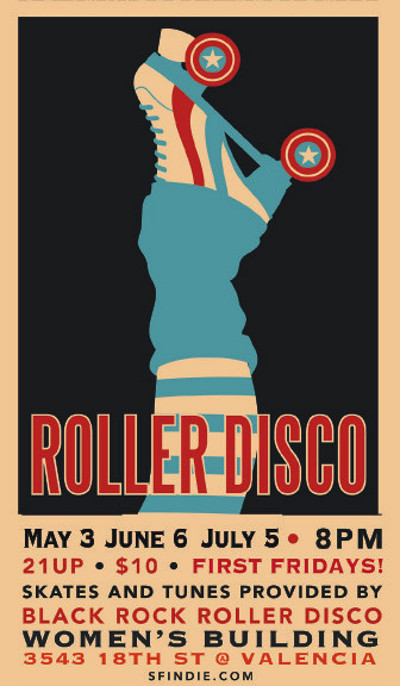 Club card flyer design by R.Black for SF IndieFest's Roller Disco
4. Make it easy to read from a distance
Your flyers should be easy to read from a distance, which means incorporating large headline text and plenty of white space for visual separation. Consider how your audience will view your flyers: if they'll be posted on bulletin boards in supermarket lobbies, for example, they could be 10 or 20 feet away from passers-by. You need to make them easy to read from those distances to get noticed.
5. Include a call to action
What should people do after they see your flyers? Buy tickets? Put the date in their calendars? Visit your event website? Make the next step clear with a compelling call to action.
If you're selling tickets to your event, early bird discounts and other incentives can help motivate quick response. Make sure your call to action stands out with large typography and other graphic elements, such as a colored background or interesting icon, so people know exactly what they should do next to attend your event.
6. Don't stuff information
Keep your flyers simple and avoid the temptation to stuff information. Only include the information needed to get your event noticed, create the desire to attend, and tell people what to do next. If you need to include more, do so in smaller typography near the bottom of your flyer design. Otherwise, list an event page URL and direct people online for additional details.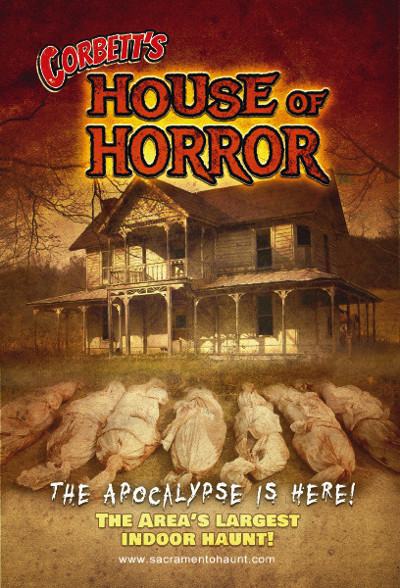 Club card flyer design by Tim Northon for Corbett's House of Horror
7. Incorporate attention-getting visuals
Your event flyers must get noticed before anything else, so you should incorporate attention-getting visuals that are impossible to ignore. Ideas include contrasting colors, unique typography, interesting photos and illustrations, and funny images or text. Another idea: print die-cut flyers in any attention-getting shape you'd like!
8. Search for inspiration
Research similar events online and check out their event flyers. Note what you like and what you don't like, as well as how you might improve them. You can find inspiration by studying other successful events, but don't copy – use that inspiration to print event flyers that are even better!
9. Distribute event flyers everywhere
Event flyers need to be distributed to be effective, so you should consider every distribution channel that will put your flyers in front of your target audience. Ideas include:
On public bulletin boards and in local stores
Direct-mail
Door drops (door-to-door marketing)
Inserts in newspapers and other publications
Inserts in retail bags and shipped packages (yours, or paid inserts)
Handouts at other events and festivals
Street team handouts
Online, on your website and via social media sites such as Facebook
10. Maximize your return on investment with discount event flyer printing
Premium event flyer printing will make your event more attractive, but you don't need to break the bank to get it. In fact, you can print premium flyers on thick, 14-point gloss paper stock in 11-inch by 17-inch size (quantity of 1,000) for less than 50 cents each. Maximize your return on investment and boost event attendance with discount flyer printing today!